Veteran Baker fits right in with young Mariners
Right-hander confident as he works his way back from Tommy John surgery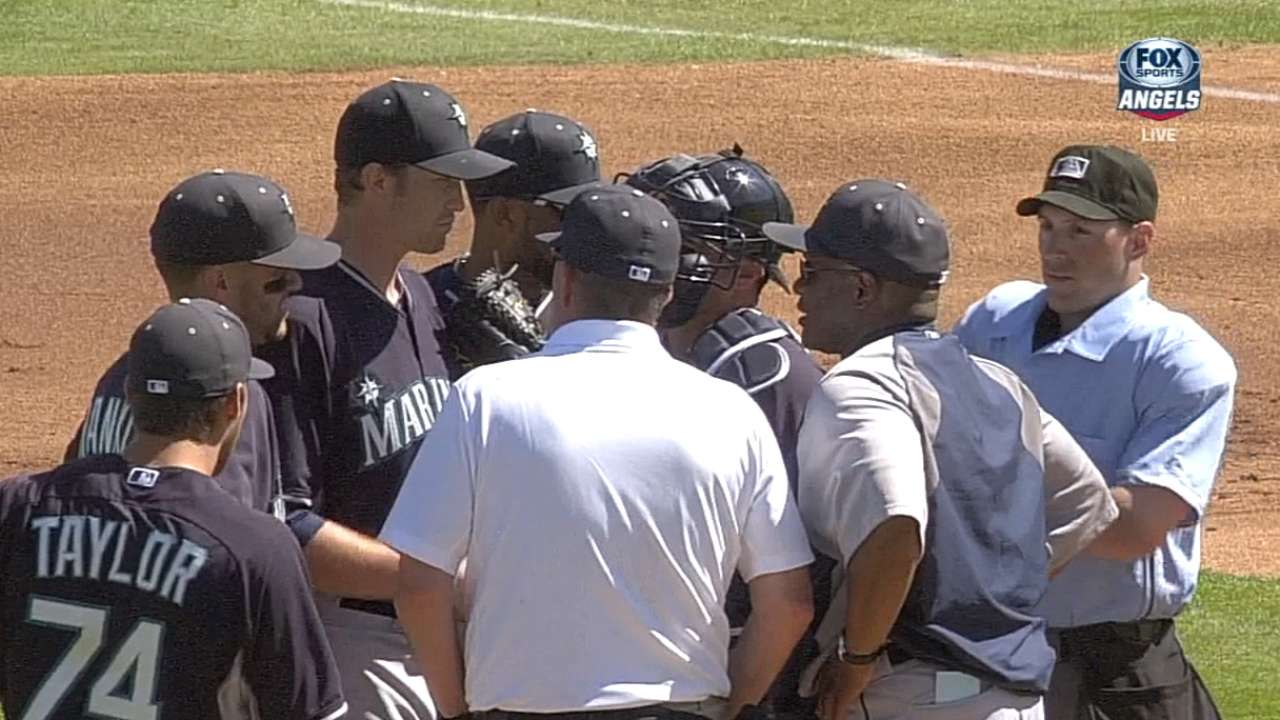 PEORIA, Ariz. -- Scott Baker pitched on three American League Central Division championship teams during his seven seasons with the Twins, so he's been in some good situations.
So trust the 32-year-old right-hander when he says he likes what he has seen this spring from his new Mariners organization, as he goes about trying to land a job for 2014.
Baker is one of several veteran pitchers coming back from Tommy John surgery in 2012. As a non-roster invitee on a Minor League deal, he knows he'll need to pitch his way onto the rotation with a solid spring. But due to injuries to Hisashi Iwakuma and Taijuan Walker, those chances have increased.
And Baker, who was the Twins' Opening Day starter in 2010 and a 15-game winner in '09, clearly has the credentials to help, if he can return to the form that helped him post a 63-48 record and 4.14 ERA over his career.
"If I do make this team, I think it's going to be a fun year," said the Louisiana native. "Hopefully we do well and get off to a good start. I know this is going out on a limb, but things are looking up here. They really are. It's closer than a lot of people probably anticipate.
"I feel like I've been around long enough to see that," Baker said. "There's some good arms here, there really are. Guys that are under team control for a good while, and that's a good thing."
Baker sees youngsters like Walker, James Paxton, Erasmo Ramirez, Brandon Maurer and Blake Beavan, all with a little Major League experience and a lot of potential. He sees the established leader in Felix Hernandez and the strong, quiet presence of Iwakuma, who is expected to return from a sprained tendon in his finger by late April.
And he likes to think veterans like Randy Wolf and himself, both coming back from Tommy John surgery, can add to that mix.
After spending his first 10 years in pro baseball in the Twins organization, Baker signed with the Cubs last year, but pitched just three games in the Majors in September after spending most of the year regaining his strength from surgery.
Like most every pitcher that undergoes the elbow ligament replacement surgery, Baker attempted to come back after one year, but says he's only now feeling like himself again, as he reaches the two-year anniversary.
No longer are his days spent mostly in the training room, doing rehab work and trying to recover from his previous throwing session.
"I feel good," he said. "It's a breath of fresh air to just come in and do what you'd normally do and not have to put in all that extra work and kill yourself just to get ready for your next outing. That can wear you out as much as anything else."
The easygoing Baker also has adapted quickly to a new baseball team, which isn't a simple transition for a guy who was in the same camp for the first 10 years of his career.
"It's been really easy, which is exactly what you're looking for," he said. "I just feel like there's a really good mix of guys in here. There are a lot of young guys that bring good energy and then there are some older guys. It's tough, in general, going to a new organization, but it's just been really comfortable and everything has been great. I've actually really enjoyed my time here."
He'll enjoy it more if he pitches well over his next few starts, beginning Sunday in a Minor League game. Baker originally was slated to face the Angels, but was switched because he has faced the division-rival twice already this spring.
After giving up just one earned run and four hits in five innings over his first two outings, Baker was roughed up for five hits and five runs (though only two were earned) in three frames in his last start against those Angels on Tuesday.
Normally a guy who relies on his command, Baker hit three straight batters at one point in the first inning.
"He just couldn't find the feel for his curveball," manager Lloyd McClendon said. "But after that, he really settled down and threw OK. We didn't make a play; that probably cost us three runs that one inning, but it wasn't a horrible outing. He threw the ball OK."
But when Baker is right, he's one of the better control pitchers in the game and he feels he's on the verge of regaining that form
That's why he's not working on adding new pitches to his repertoire this spring, but just rediscovering and refining the pitches that made him a successful starter for the Twins.
"If I go back to 2011, I really felt I had a good feel for everything before the elbow really started barking," Baker said. "For me, it's always been about executing pitches. It's never been a 'stuff' thing. Anytime I've tried to do too much or tried to make the pitches better than they already are, that's just never been good.
"I just need to execute pitches, make good pitches, especially two-strike pitches. I've always been a guy to get ahead of hitters and put myself in good counts and situations, but I really have to stay on top of putting guys away. That's just me. That's something I've always had to deal with and I'm sure, for the rest of my career, something I'll have to stay on top of. I don't think you're trying to reinvent yourself, you're just trying to just refine yourself and be as good as you possibly can be."
And if he can be the Scott Baker who helped the Twins to a trio of division titles, that would work just fine for the Mariners as they seek to fill out a rotation that still holds a lot of question marks just two and a half weeks from Opening Day.
Greg Johns is a reporter for MLB.com. Follow him on Twitter @GregJohnsMLB as well as his Mariners Musings blog. This story was not subject to the approval of Major League Baseball or its clubs.