Walker throws, says shoulder 'feels really good'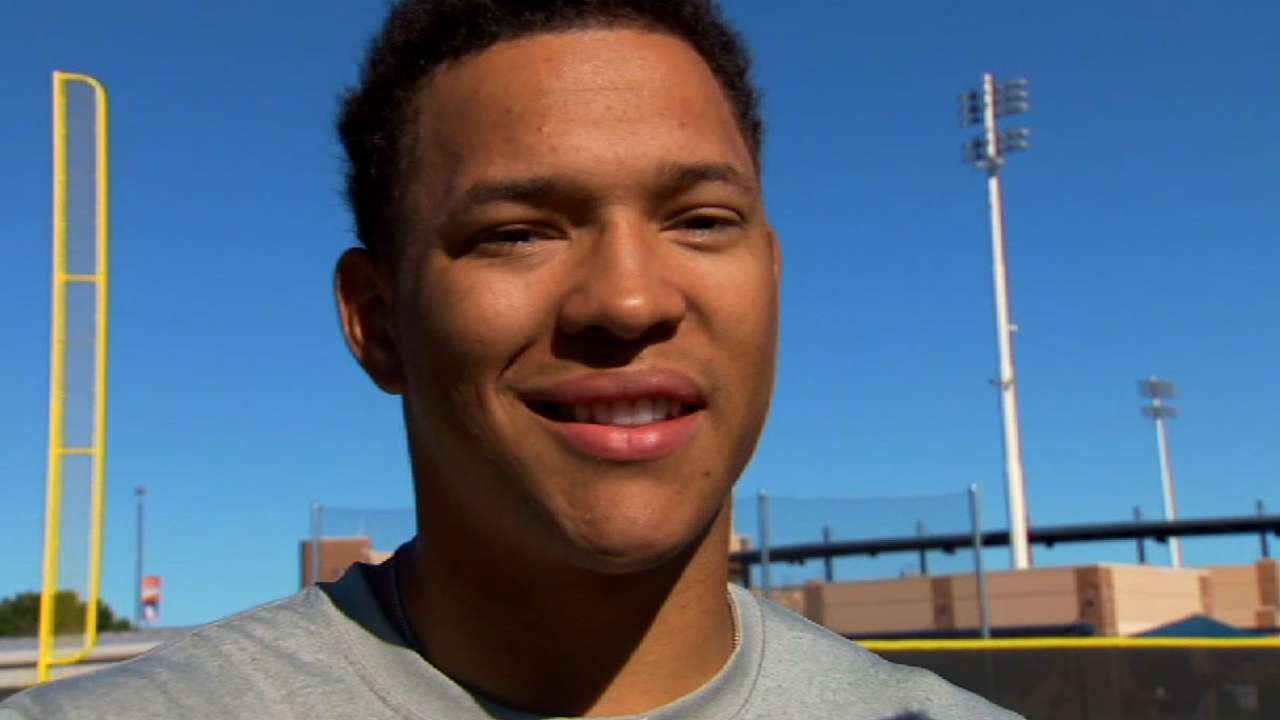 PEORIA, Ariz. -- Mariners right-hander Taijuan Walker said he "had a big smile" after throwing a 25-pitch bullpen session Thursday, his first time pitching off a mound since being completely shut down for a week on Feb. 28 with bursitis in his right shoulder.
Walker has played catch and long toss over the last week to build his arm strength back up, but getting up on a mound was a big step in his return as the Mariners are hoping to regain the services of their top young pitching prospect sometime in April.
"Today was a great relief," said the 21-year-old, who is the No.-6 ranked prospect in baseball by MLB.com. "I finally feel normal again. I can finally go out and just be normal and play catch and not worry about anything.
"I'm excited. It kind of feels like I just got here. It feels really good."
Walker was expected to land a rotation berth this spring after going 1-0 with a 3.60 ERA in three late-season starts last year. But he arrived at Spring Training with a sore shoulder after working hard to prepare himself for camp and was eventually shut down for seven days after tests showed some inflammation, but no structural damage.
The youngster from Yucaipa, Calif., had thrown two bullpen sessions before being shut down, but said he felt like he was starting over now with a fresh arm. Thursday's session was tightly controlled as he threw 25 fastballs, with no breaking balls, and didn't go full out.
"I just wanted to go out and get the feel for it and feel myself out," he said. "It felt good. I did get after it about the last 10 or so and it felt real good."
Manager Lloyd McClendon told reporters earlier in the morning the session would be "private," which is difficult to do at the Mariners' open practice facility. But Walker did throw earlier than normal, before the media was out on the field.
"It's nothing different," McClendon said. "I just don't want to turn this into a sideshow. I understand the inquiries about him and people wondering about his health. But he's fine. He just needs to go back to being one of the regular guys. TV cameras and reporters in there for his bullpen session, he doesn't need that right now. He needs to get back into his groove."
Walker said he wasn't worried about any distractions, however.
"No, not really. I just want to go out and get healthy," he said. "The media is always going to be there. I just want to go out there and pitch and feel normal again and throw without any pain or soreness."
Walker will play light catch on Friday to see how the shoulder responds, then throw a 40-pitch bullpen session in another day or two if all goes as planned. Eventually he'll advance to live batting practice or simulated game action against hitters before being able to throw in games.
The Mariners have already said he won't be ready for the start of the season on March 31 and presumably will need several weeks or more beyond that to build his arm strength up to be able to start and throw six or seven innings in a Major League game.
Walker knows that is all somewhat out of his control at this point.
"Definitely the sooner, the better," he said. "But I just have to listen to those guys in the training room. Whatever they say goes."
Greg Johns is a reporter for MLB.com. Follow him on Twitter @GregJohnsMLB as well as his Mariners Musings blog. This story was not subject to the approval of Major League Baseball or its clubs.