Once rare, Tommy John surgery becoming common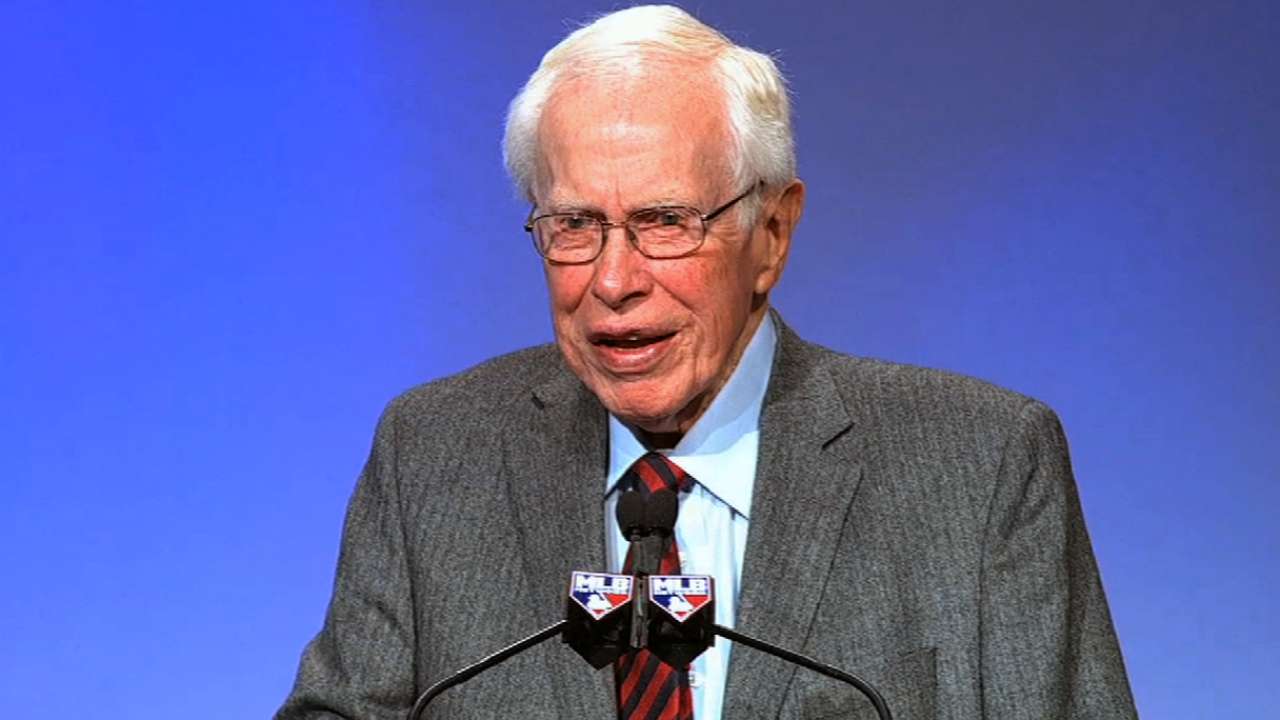 Last Thursday, baseball lost a man who changed the game forever.
He was neither a player nor manger, but his impact on the game touched hundreds of players' careers and countless more to come.
Dr. Frank Jobe passed away at the age of 88, leaving behind the legacy of inventing a procedure named after his first patient, Los Angeles Dodgers lefty Tommy John.
Tommy John surgery can be one of the most dreaded surgeries in sports and can be a pitcher's worst nightmare, but it has become surprisingly common since Jobe first performed the procedure on John in 1974.
How common? A 2013 study by Will Carroll found that about one-third of pitchers who started last season on Major League rosters underwent Tommy John surgery at some point in their career.
An astounding number, and a testament to the surgery's success rate after years of refinement since its inception 40 years ago.
Players who blew out their elbows before the mid-1970s either saw their production drop sharply or they faded away from the game altogether. John not only came back from the surgery, but pitched another 14 years, finishing his career with 288 total wins.
Jobe pioneered a procedure that saved and prolonged hundreds of pitchers' careers.
Pitchers like Stephen Strasburg (2010), Adam Wainwright (2011) and Scott Baker (2012) continued their careers after undergoing the surgery to repair their ulnar collateral ligaments (UCL).
"They've come as close as they possibly can to perfecting not only the surgery, but the rehab portion of it as well," Seattle Mariners pitcher Baker said.
Even though the procedure is highly successful, with approximately 85-90 percent of players making a full recovery, it is still dreaded, because the rehab process is long and arduous.
The typical recovery time is between 12 and 18 months. Rehab is very monotonous and mentally taxing.
"It's not like knee surgery, where it's physically challenging," Seattle Mariners pitcher and two-time recipient of Tommy John surgery Randy Wolf said. "It's really a game of patience and getting used to doing the same things [in rehab] over and over again."
While the tediousness and slow pace of rehab can be tough on players, it helps alleviate fears about re-injuring the surgically repaired elbow when pitchers finally begin throwing.
"The throwing program is so long, starting with just a gentle lob, and it's such a slow progression to throwing with any type of velocity, by the time you get to the point where you can throw with some velocity, you're comfortable with it," Wolf said.
That comfort ends at Spring Training, when the hurdle of facing live hitters, something a whole lot different than the structure of a throwing program, presents itself.
"I really didn't feel like I was stressing too much until I got into game situations," Baker said. "You can throw all the bullpen [sessions] you want, you can throw all the batting practices and simulated games you want. You cannot duplicate a real game situation.
"I don't know how you can go out there and not let it fly and give everything you got."
For those still early in the rehab process when Spring Training begins, the luxury of throwing off a mound in a game situation does not exist.
"Now that we're in camp, you kind of feel isolated," Arizona Diamondbacks pitcher Matt Reynolds said. Reynolds underwent the procedure in September of last year.
"Everybody else is able to do all the baseball activities, and I'm stuck rehabbing and not being able to feel part of the team."
While most procedures are successful and last the length of a career, some players like Wolf and D-backs pitcher Daniel Hudson needed the surgery twice.
"The numbers speak for themselves, but of course you have guys like me who are kind of outliers and get the short end of the stick and had to do it again," Hudson said.
In June 2013, Hudson needed his second surgery in a calendar year after re-tearing his UCL while rehabbing from his first surgery.
Pitchers are not the only players who need this procedure. Occasionally, position players require Tommy John surgery, like Los Angeles Dodgers outfielder Carl Crawford in 2012 and Minnesota Twins prospect Miguel Sano this season.
In the end, most surgeries are successful, and players are able to resume their careers.
"It's really important to trust that there has been a bunch of guys who have done it before, and it's a very successful surgery," Baker said.
Jaime Eisner is a senior majoring in journalism at Arizona State University. This story is part of a Cactus League partnership between MLB.com and Arizona State University's Walter Cronkite School of Journalism and Mass Communication. This story was not subject to the approval of Major League Baseball or its clubs.