Peterson enjoys big league experience, first hit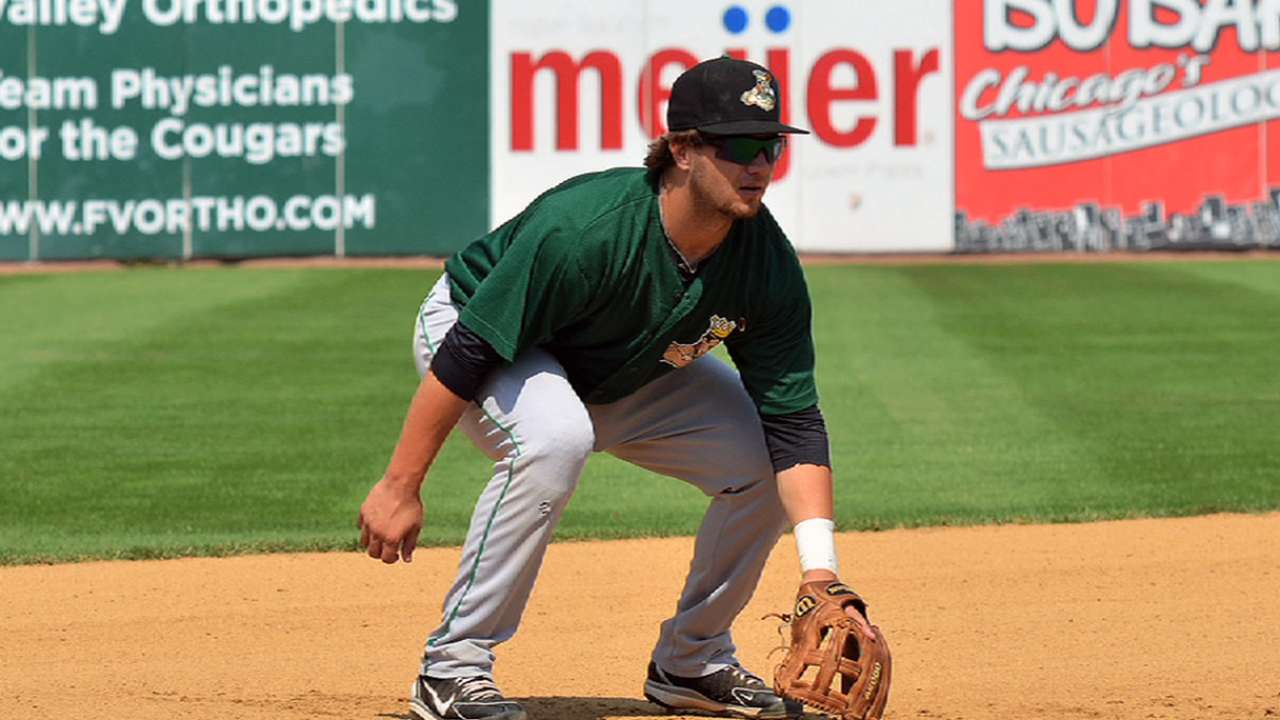 GLENDALE, Ariz. -- D.J. Peterson didn't get an invitation to Major League camp this spring, as the Mariners wanted to bring their 2013 first-round Draft pick back slowly after his jaw was shattered by a pitch last August, but the young third baseman got a shot in Thursday's Cactus League game against the White Sox and made the most of it.
The 22-year-old third baseman was one of several Minor League players who filled out the bench Thursday, and dropped an RBI single into center field in the seventh inning of a 7-4 victory at Camelback Ranch for his first hit with the big club.
"It felt great, just to have the opportunity after the big injury I had," said the former University of New Mexico standout. "For the skip to give me a chance to come up here and play was truly a blessing. It felt good. It felt awesome. I didn't square it up as I wanted to, but I got the monkey off my back."
Peterson, the organization's No. 3 ranked prospect in 2013, would have loved an invitation to the big league camp this spring, but he understood the Mariners' thinking. He's wearing a jaw protector that attaches to his batting helmet as a safeguard, but hasn't had any issues returning to action.
"It was a little nerve-wracking my first at-bat, but after that it's kind of like, it was a freak accident and something that happens to somebody maybe once in their lifetime and most people none," Peterson said. "It's a one in a million. So the nerves are gone and seeing the inside pitch is not a problem. I don't think about a thing. I'm just trying to help this team and drive in runs."
He did that with his seventh-inning single, which he hopes is the first of many with the Mariners.
"I've been champing since I've been here, watching all these big leaguers get to do it every day," he said. "It's been awesome. Truly a blessing. And I feel honored they've given me a chance to get out here."
Peterson spent the early part of the game watching Kyle Seager's every move at third base, how he positioned himself, how the White Sox pitched to him, what pitches he was sitting on. Then he found himself playing the same position for the final four frames, and was still pinching himself afterward.
"To be honest, I still have nerves right now," he said before heading to catch the team bus. "I'm still shaking a little bit. It's awesome being around these big league guys. I've been watching some of these guys for five, six years. I'd be lying if I said I'm not nervous at all."
Greg Johns is a reporter for MLB.com. Follow him on Twitter @GregJohnsMLB as well as his Mariners Musings blog. This story was not subject to the approval of Major League Baseball or its clubs.