Pryor feels strong after fourth bullpen session
Mariners righty following doctor's orders after missing most of '13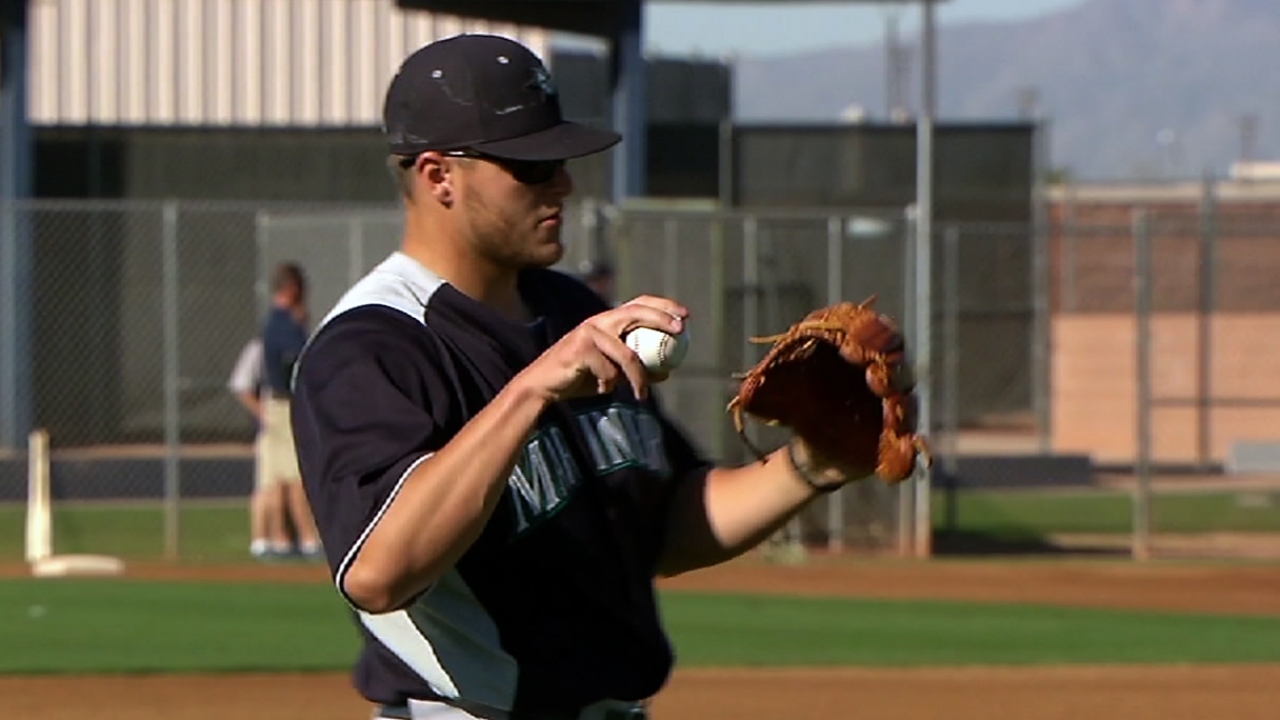 PEORIA, Ariz. -- For right-handed reliever Stephen Pryor, the toughest part about Mariners camp so far is pacing himself and not pushing too fast as he returns from a difficult tendon-repair surgery behind his right shoulder.
Pryor threw his fourth bullpen session of the spring Tuesday and said he felt great Wednesday morning, but he knows he needs to keep listening to the doctors and trainers who caution him against firing full out and are preventing him from facing live hitters as he works his way back from a near full season on the disabled list in 2013.
"They keep the shock collar on to keep me from doing too much," Pryor said with a smile. "It's hard because I'm feeling good and not getting sore, so I'm wanting to go. But it's smart to not rush into it. It's a long season and I want to feel good all the way through September and October even, if we get that opportunity."
Pryor hopes to be ready to contribute sometime in the first few months of the regular season, but there's no exact timetable. Jake Peavy is the only other Major League pitcher to have had the same tendon reattachment procedure, so Pryor is in fairly uncharted waters.
He threw 30 pitches Tuesday, including eight breaking balls for the first time, and said he was working at about 80-85 percent of his normal capacity. He hopes to keep ratcheting that effort level up in coming sessions, with the next one slated for sometime this weekend.
"I feel good right now," he said. "I know it'll be a little different with a hitter in the box and adrenaline and stuff. I'm anxious to see how I'll feel from that standpoint."
Pryor, 24, was a big part of Seattle's bullpen plans a year ago, but injured his shoulder after seven scoreless appearances in the first few weeks of April. The Mariners would love to have him back in the mix as soon as possible this season, but know patience is required.
"We're going very slow and deliberate and that's on purpose," said manager Lloyd McClendon. "We're not going to rush this young man. He's throwing good, he feels good. But we need to get that velocity up where it needs to be for him to be the dominant guy we know he can be. You just can't rush the process."
Greg Johns is a reporter for MLB.com. Follow him on Twitter @GregJohnsMLB as well as his Mariners Musings blog. This story was not subject to the approval of Major League Baseball or its clubs.