Young prospect Marte gets his shot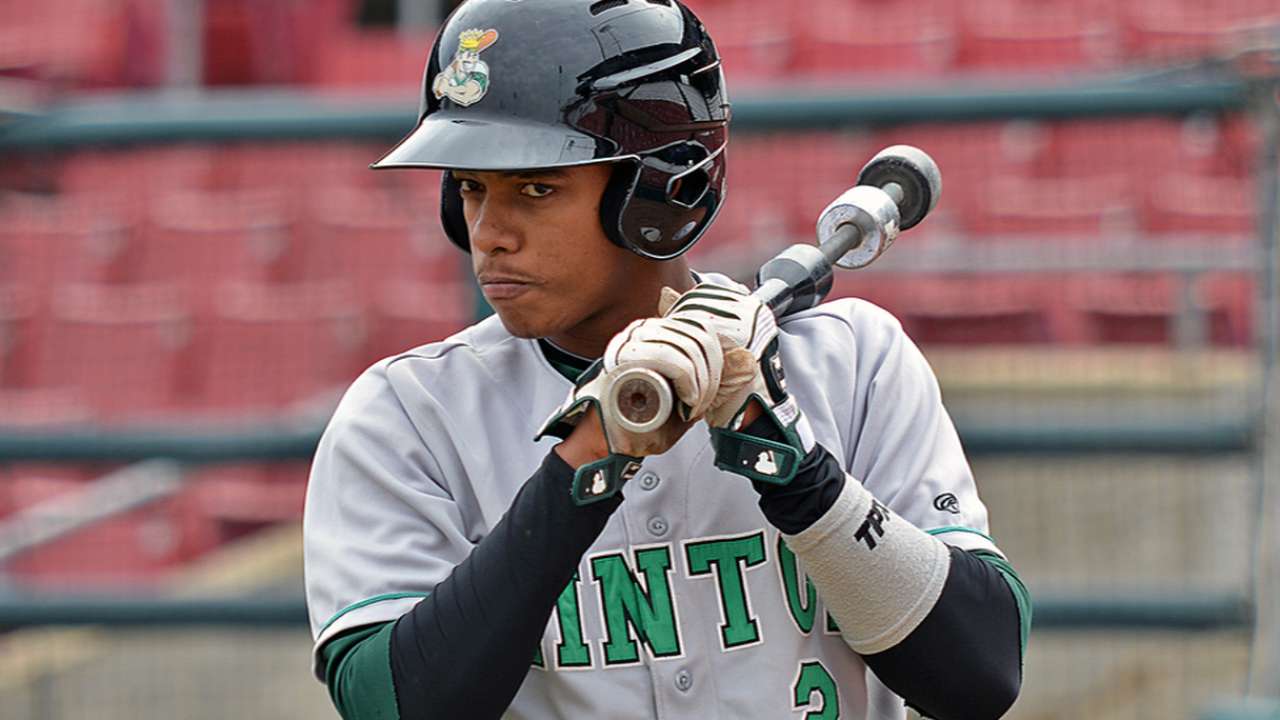 GLENDALE, Ariz. -- With Mariners skipper Lloyd McClendon looking to give many of his veterans a day off in the wake of Monday's split-squad games, young Minor League prospect Ketel Marte got the start at second base in Tuesday's 4-1 victory over the Dodgers and delivered a solid performance.
Marte, 20, hit .304 for Class A Clinton last year and is the Mariners' 20th-ranked prospect by MLB.com. He wasn't invited to Major League camp, where the Mariners already have a club-record 68 players. But the youngster got the call to help out on Monday during the split-squad action and performed well enough to get a second shot -- and a starting role -- Tuesday.
The switch-hitter responded by going 1-for-3 with a walk, a run scored and a stolen base, as well as a couple fine fielding plays while playing all nine innings.
Marte ranged to his right to short-hop a high chopper at the second-base bag and fire across his body to nail Dee Gordon for the final out of the seventh in impressive fashion, reminding his manager a little of Robinson Cano on the play.
"Wasn't too bad, was he?" said McClendon. "There's only one other guy I know that could make that play and he had the day off."
Like all the Minor League prospects, Marte has a long climb ahead. But it never hurts to get a little taste of the big league environment and a chance to impress your bosses.
"I think it's good when you can bring kids over from the Minor League camp and give them a shot in the arm," McClendon said. "It's good for the organization and he's a talented young man that deserves an opportunity to get a look. I wouldn't read too much into it, but I think it's good for the organization when you can do that."
McClendon said he's been impressed by all the youngsters he's dealt with from the farm system.
"It's very refreshing," he said. "I think it speaks volumes about our organization as a whole and what we've got coming."
Another young infielder who has caught the manager's eye is shortstop Chris Taylor, who is in Major League camp and ripped a grand slam in Monday's 6-5 victory over the Reds. Taylor was the Mariners' Minor League Player of the Year last year and is a strong defender.
"He's very polished young man," McClendon said. "I would say he's high on the list and he hasn't disappointed in Spring Training. He's a pretty solid young kid, and I like what I see."
Greg Johns is a reporter for MLB.com. Follow him on Twitter @GregJohnsMLB as well as his Mariners Musings blog. This story was not subject to the approval of Major League Baseball or its clubs.