Beavan quietly making bid for rotation spot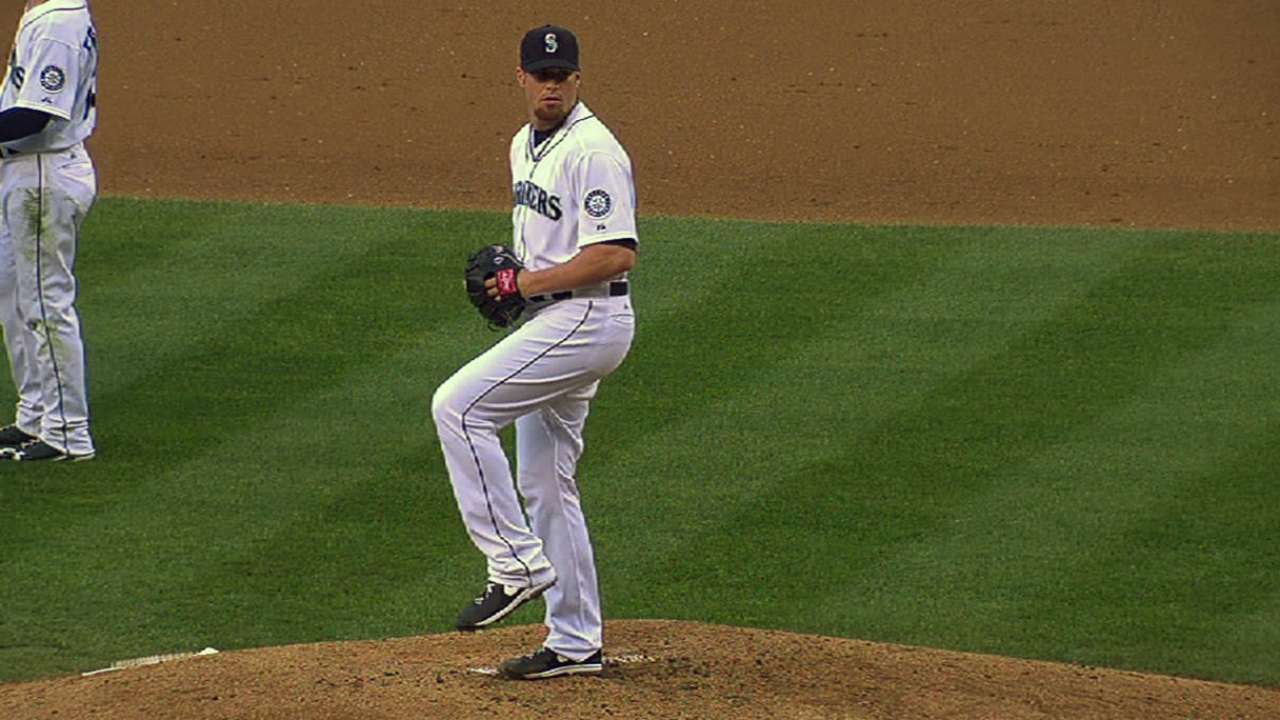 PEORIA, Ariz. -- Blake Beavan was an 11-game winner for the Mariners in 2012 and has 43 Major League starts on his resume, yet the big right-hander is largely overlooked when it comes to conversations about Seattle's starting candidates this spring.
But Beavan, 25, isn't worried about that. He says he feels fully healthy after a bout with tendinitis in his knee last year and has returned to the pitching mechanics that worked better for him two years ago when he started 26 games.
And as for flying under the radar? The former first-round Draft pick of the Rangers understands full well why other young pitchers like Taijuan Walker, James Paxton and Brandon Maurer get so much attention.
"These guys we've got here are very special," Beavan said after throwing three innings of one-run ball in Monday's 8-1 victory over the Rockies. "Not that they're much different in age from me, but we've got Paxton, Maurer, Taijuan and all these guys that can light up the gun and show some nasty stuff out there.
"It's good to see those guys get talked about like that. They deserve it. I'm just trying to go out there and get back to where I was before last year. That's my main focus of Spring Training."
With Walker sidelined by a sore shoulder, Maurer recently slowed by a stiff back and Hisashi Iwakuma out for at least the first few weeks of the season with a sprained tendon in his finger, Beavan might prove to be an early-season fallback. And he's looked the part this spring with a 1.80 ERA in five innings in his first two appearances, scattering four hits with no walks in Monday's three frames.
"We stretched him out and he probably fatigued just a little and got a couple pitches up," manager Lloyd McClendon said. "But I thought his stuff was good for the most part all day. He did a good job for us. He's a command guy, he's not a guy that is going to light up the radar gun. He has to control the strike zone, stay down and move it in and out and he did a fine job of that today."
Beavan knows what is at stake this spring and notes "this is a big year for me" as he tries to bounce back from last year, when he started just two games before being sent down and then spent most of the year in Triple-A Tacoma outside of a long-relief stint in Seattle.
"There's been opportunity here the last couple years," he said. "It's always good to have competitive Spring Trainings and we're fortunate we've got a lot of guys who can do a lot of great things. It's just fun to see everybody pushing each other. We're still all buddies, but when we get on the mound, it's time to go after them and compete. At the end of the day, it's your turn to take care of your family and try to win a job."
Greg Johns is a reporter for MLB.com. Follow him on Twitter @GregJohnsMLB as well as his Mariners Musings blog. This story was not subject to the approval of Major League Baseball or its clubs.