Hart acknowledges adjustment in return to game action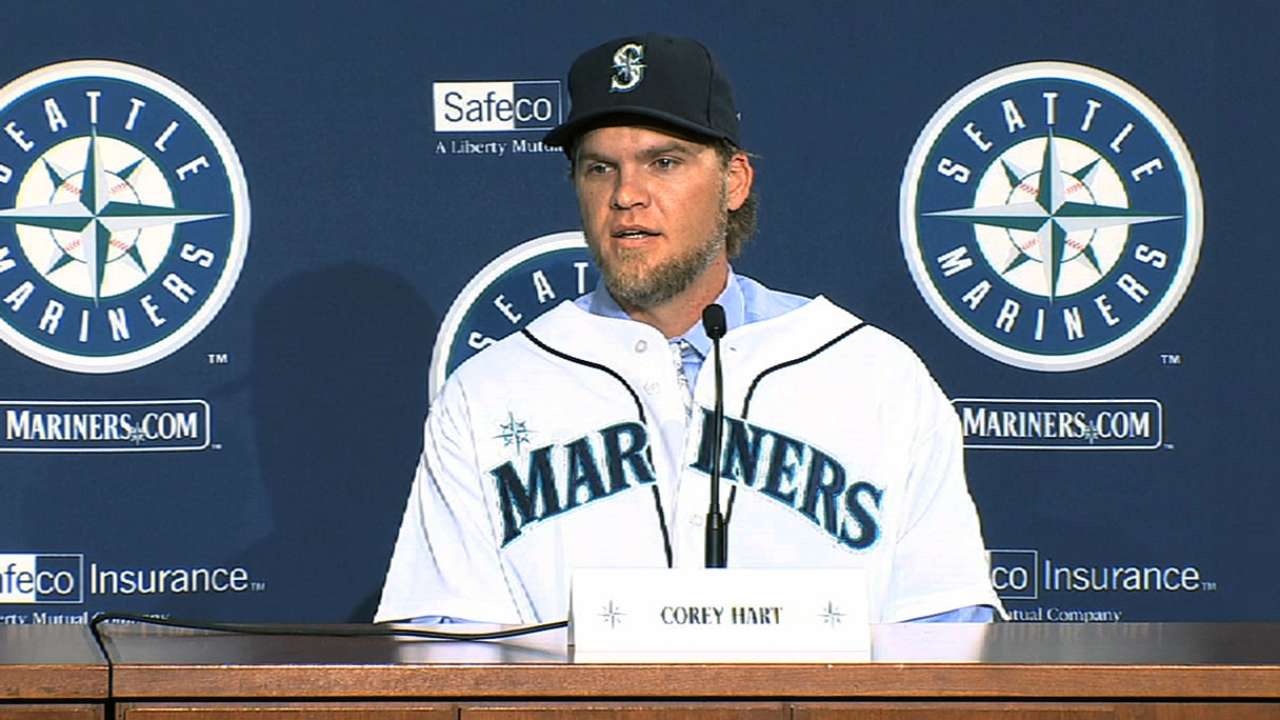 PEORIA, Ariz. -- Mariners right fielder Corey Hart took his first step toward returning from a pair of microfracture knee surgeries with a successful debut in Friday's 12-1 victory against the Padres and said all checked out great Saturday morning when he reported back to work.
Hart played designated hitter in his first game of the spring and went 1-for-2 with a single and a walk, then admitted he felt more like a rookie than a nine-year Major League veteran as he stepped back into a game situation for the first time since 2012 with the Brewers.
"Nervewracking," Hart said. "It's been a year and a half since I've seen a live pitch, so it was definitely fast. But I need to build, and every at-bat was a little better. So for me, it's just getting the timing and pace of the game. I'm healthy enough to go out there and do everything, and as spring goes on, I'm sure I'll get more comfortable."
Hart struck out in his first at-bat, then walked and advanced to third on a double in the fourth before driving a single to left field in the sixth.
"It was exciting," Hart said. "My wife and a couple of my kids were there. It was nice just to be involved. It's a big rush. Having missed that for the length I did, it was cool to get back out there."
Hart said there is no way to prepare for the speed of an actual game, but that things slowed for him a little in each subsequent at-bat.
"You can hit off a machine as hard as it will go or have live BP, but once you get in there, it's completely different," he said. "It becomes a chess match, what are they going to throw, don't swing at stuff you're not supposed to swing at, the ball comes out of guys hands differently. Every at-bat as different, but it'll come.
"It still might take me a few weeks to be comfortable enough to not miss pitches, but they know that and I'm confident. I don't care if I struggle for a while. It'll come. I've had 0-for-20s when I feel great. Yesteday I went 1-for-2 with a walk, I was like, 'Hmm, that's a pretty good on-base.' If that's the worst I feel and that's what I do, it's a good thing."
Greg Johns is a reporter for MLB.com. Follow him on Twitter @GregJohnsMLB as well as his Mariners Musings blog. This story was not subject to the approval of Major League Baseball or its clubs.