Zduriencik takes wait-and-see approach with rotation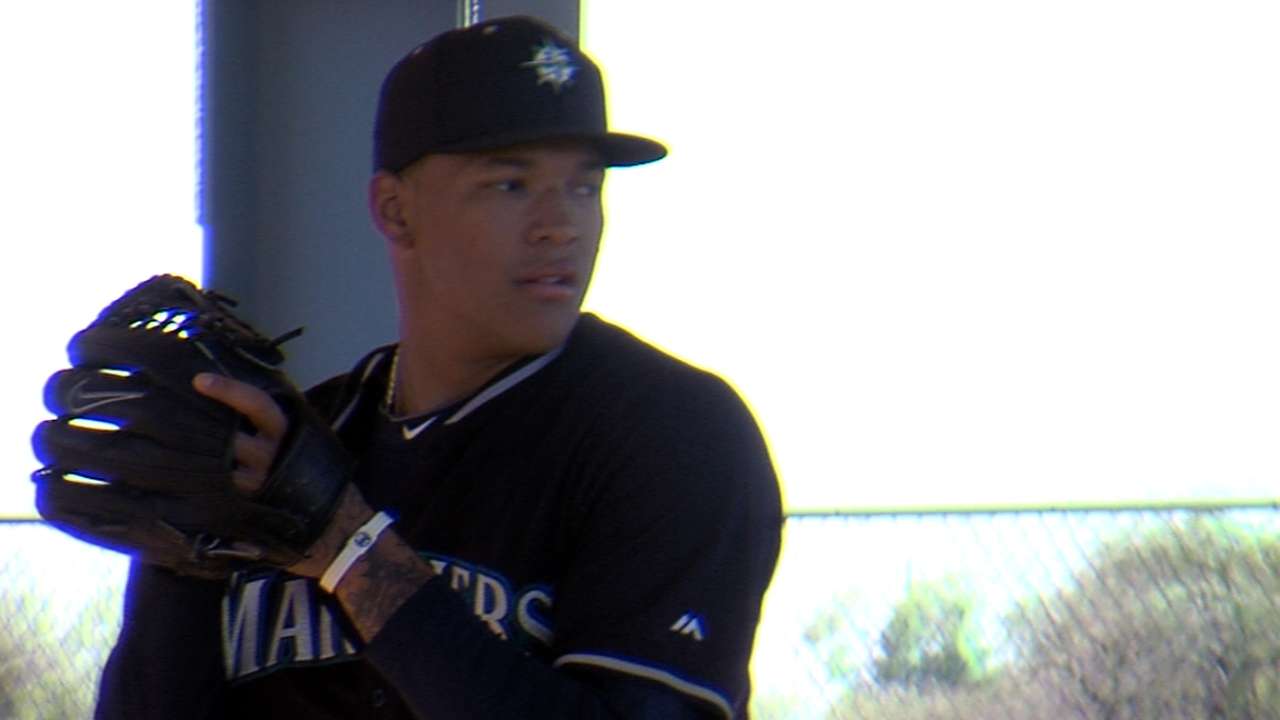 PEORIA, Ariz. -- With injuries already sidelining two of Seattle's top hurlers in Hisashi Iwakuma and Taijuan Walker, Mariners general manager Jack Zduriencik said Saturday "it remains to be seen" if his club has enough starting pitching heading into the regular season.
Neither of the two right-handers is expected to be available until at least several weeks into April after Iwakuma reported to camp with a sprained tendon in his right middle finger and Walker came down with bursitis in his throwing shoulder.
Zduriencik said the good news is neither pitcher is expected to miss significant time. In the meantime, a couple starters will get an early opportunity to show what they can do. The Mariners have two proven veterans -- Scott Baker and Randy Wolf -- in camp as non-roster invitees attempting to come back from 2012 Tommy John surgeries.
Additionally, a young group of prospects -- Brandon Maurer, Erasmo Ramirez, Blake Beavan and Hector Noesi -- have all gained some experience in the past season or two and will have a chance to grab jobs.
"You're hoping something real positive comes out of Baker and Wolf," Zduriencik said. "Those are veteran guys that have been around a while. They've got every opportunity to make the club here. Brandon Maurer has to get back on the mound and start throwing again. We've got Erasmo, Beavan, Noesi. Let 'em all compete.
"It sounds like we've been through the worst with these pitchers in terms of the two that have had setbacks. But the bright side is they should recover nicely and it's going to make for an interesting camp for everybody else that's in there."
Baker made his spring debut Saturday against the Angels and threw two scoreless innings with one hit, one walk and one strikeout, while Wolf will start Sunday's game against the Indians in Goodyear, Ariz. Zduriencik and the rest of the Mariners' staff will watch those two closely.
"No question," Zduriencik said. "And there's no question that they came in with intentions of making the club. And that's good. They'd have been given every opportunity to make this club because they give you options and depth, but now it puts them in a little different light.
"There are less numbers, at least initially. They'll be given every chance to pitch here, so let's see. And you've got other guys like Mark Rogers and Matt Palmer coming in here to compete, too, that want to be part of this club. And Zach Miner has starting in his history. So you never know. Let's see what happens."
Zduriencik said the positive with Walker is the 21-year-old didn't have any structural damage in his shoulder based on MRI tests.
"It was just a young guy who got amped up before camp trying to get himself ready and strained himself," Zduriencik said. "The good part is everybody feels good about it, he just needs to build his throwing program back up and that's going to be the setback. We don't think it's going to be anything physical now, being he's got the clearance and positive information on it."
Greg Johns is a reporter for MLB.com. Follow him on Twitter @GregJohnsMLB as well as his Mariners Musings blog. This story was not subject to the approval of Major League Baseball or its clubs.