McClendon's first lineup glimpse into future
Primary position players in place, leadoff spot still up in air for 2014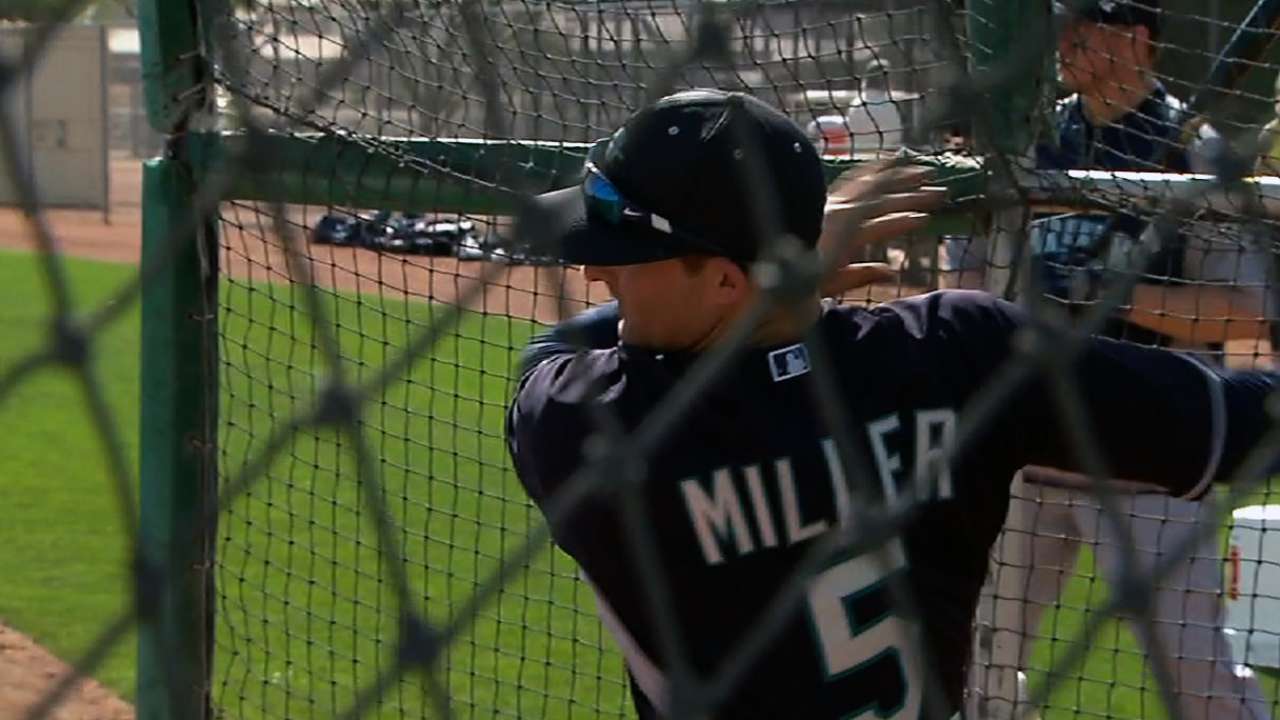 PEORIA, Ariz. -- When the Mariners opened Cactus League action on Thursday afternoon against the Padres, they trotted out what new skipper Lloyd McClendon acknowledges is a "pretty representative" lineup for what might be seen this season.
With the exception of right fielder Corey Hart, all of Seattle's primary position players were in place, including new second baseman Robinson Cano hitting third behind Kyle Seager.
Many things are still to be determined over the next four weeks of Cactus League play, of course, including who will hit leadoff. Abraham Almonte was in that slot on Thursday and McClendon likes what the youngster brings to the table.
"He's an interesting guy," McClendon said. "He's a switch hitter. He has tremendous speed, the ability to bunt, steal bases, first to home. Typical guy that you're looking for in a leadoff role. He fits the bill. He gets an opportunity today."
Asked who else might get a shot in the leadoff role this spring, McClendon mentioned Nick Franklin, Xavier Avery, Michael Saunders and Dustin Ackley. He didn't list Brad Miller, who led off 67 games last as a rookie, but this was far from an official list.
"We've got four weeks to figure it out," McClendon said.
The Mariners are being careful with Hart, who is coming off a pair of microfracture knee surgeries and didn't play in 2013 for the Brewers. But McClendon said Hart will be in the lineup on Friday when Seattle again faces the Padres.
Clearly the skipper isn't going to wait long to see what he's working with as he sorts through his new team. He followed Cano with Logan Morrison in the designated hitter spot on Thursday, then had Justin Smoak at first, Saunders in right, Ackley in left, Miller at short and Mike Zunino behind the plate.
"It's a pretty representative lineup, yeah," he said. "I like it. I think it has a chance to be productive, but we'll see. I wouldn't read too much into it."
The Mariners have a franchise-record 68 players in camp and McClendon will be watching closely to see how things that have been worked on the past two weeks are transferred over to live situations as the games begin. Cactus League results don't count for anything in the end, but they are an opportunity to make an impression.
"It's real important, particularly where we are and where we're trying to get to," McClendon said. "Guys need to understand they need to show a lot of energy, show off their talent. For most guys, Spring Training is to get yourself ready for the season. But obviously, we've got some questions that need to be answered. And there's some competition."
Greg Johns is a reporter for MLB.com. Follow him on Twitter @GregJohnsMLB as well as his Mariners Musings blog. This story was not subject to the approval of Major League Baseball or its clubs.