Healthy Beavan eyes role on Mariners' staff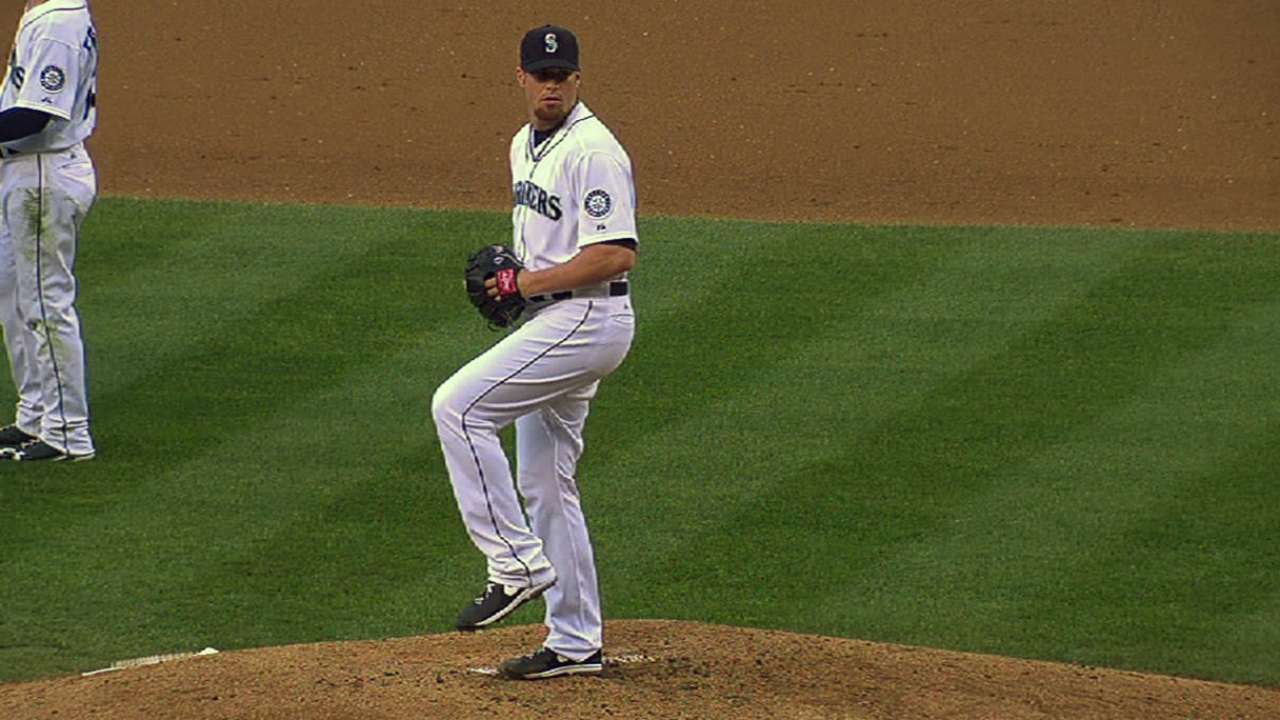 PEORIA, Ariz. -- Blake Beavan isn't worrying about anyone else's perception. The big right-hander says he's back to full health after dealing with tendinitis in his left knee that took a couple ticks off his fastball last year and he's eager to give things a go this Spring Training in search of either a starting job or long relief role.
The 25-year-old Texan went 11-11 with a 4.43 ERA in 26 starts in 2012, but made just two early season starts last year and then spent the rest of the year either in Triple-A or working out of the bullpen in two stints with the big league club.
"This year, I'm just flying under the radar," said the 2007 first-round Draft pick of the Rangers. "There's not a lot of hype or a whole lot of pressure. I just feel like it's my job to win a job, whether it's starter or long guy again -- whatever I can do to help."
Pitching coach Rick Waits, who worked quite a bit with Beavan last year as the club's Minor League pitching coordinator, isn't ruling the 6-foot-7, 245-pounder out of the starting mix in which the only sure things are Felix Hernandez and Hisashi Iwakuma.
"He's in there," Waits said. "We have seven or eight legitimate starters here fighting for those spots. I like competition. It makes everybody better. We just have to wait and see how guys take the ball and run with it. I'm old school. Go take it. It shouldn't be a gift. It should be, go out and earn it."
That works for Beavan, who just wants a chance to show what he can do now that his knee feels better and he's another year older and stronger. He'll get his first chance in the Cactus League opener against the Padres on Thursday, when he's scheduled to pitch after Erasmo Ramirez.
"I told Waits and those guys, 'I'm healthy this year, I know I can contribute, whether it's starting or in the bullpen,'" said Beavan. "I think I proved last year I can be a long guy. So I'm just going to go out this spring and compete. That's all you can control and let those guys decide what they want to see. There are a lot of guys in camp and there's a lot of opportunity."
Beavan's best shot might be to grab a job as a swing man in the bullpen as when he's on, he's an innings eater who throws strikes. While he was 0-2 with a 6.13 ERA in 12 appearances last year, he put up a 3.79 ERA in 19 innings as a long man in five appearances in his second stint with the club in midseason.
"I know the coaches love the competition and there are a lot of spots open," he said. "Besides Felix and Iwakuma, it should be interesting how it all pans out."
Greg Johns is a reporter for MLB.com. Follow him on Twitter @GregJohnsMLB as well as his Mariners Musings blog. This story was not subject to the approval of Major League Baseball or its clubs.