Thomas' election to Hall could pave way for Edgar
Longtime Mariners designated hitter earned 25.2 percent of vote in fifth year on ballot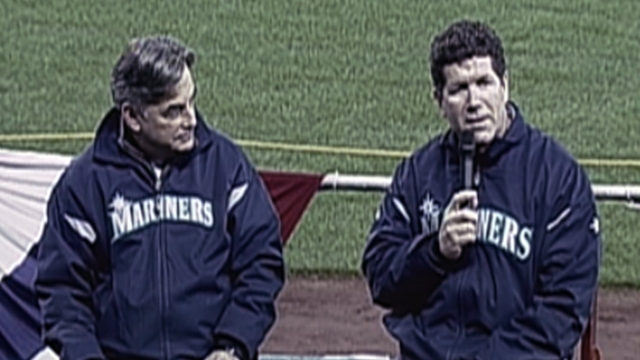 SEATTLE -- Ever since Edgar Martinez retired in 2004, the debate has raged regarding how much a designated hitter needs to do in order to earn induction into the Hall of Fame.
And while Martinez has now gone through five Hall of Fame votes without gaining much ground, the Baseball Writers' Association of America finally approved the first player who spent the majority of his career as a DH on Wednesday, when Frank Thomas earned 83.7 percent of the votes to gain first-ballot induction along with pitchers Tom Glavine and Greg Maddux.
The question now is whether this was a change in the thinking of the majority of writers, or more an exception for a man who hit 521 home runs and won a pair of American League MVP Awards during a 19-year career during which he also played quite a bit of first base.
Martinez had a higher career batting average, a near-identical on-base percentage, appeared in two more All-Star Games, won one more Silver Slugger Award and one more AL batting title than Thomas, but garnered just 25.2 percent of the vote in his fifth time on the ballot and is facing long odds of ever earning a bid to Cooperstown.
Martinez has heard all the previous arguments about the DH not really being a position and figures the induction of Thomas might bolster his case with some voters.
"I guess it can help," Martinez said. "It can make an argument for my case later. But his numbers are so good in all the offensive categories. He was a great hitter. So I don't know how much it'll help me. But it might be an argument."
Thomas also played first base during his career, but he will be the first Hall of Famer to have played a majority of games at the DH position. The "Big Hurt" appeared in 2,322 career games, with 56.4 percent of those (1,310) coming as a DH.
Paul Molitor, who was elected in 2004, played 44 percent of his games as a DH.
Martinez played third base early in his career, but was almost exclusively a DH in his later years and wound up with 68 percent of his 2,055 career games at that position.
Thomas took pride in his defensive abilities, but acknowledged the value of the DH position in extending his 19-year career with the White Sox, Blue Jays and A's when he talked to reporters in Chicago following Wednesday's news of his upcoming induction.
"If you followed me in Chicago, I played first base a very long time for this organization," Thomas said. "But if you want to talk about DH, I think the last impression was my last six to seven years as a full-time DH. To spend so long in the game, you've got injuries, you've got everything you've got to overcome. The DH extended my career and I'm proud of that.
"And I tell people right now, just because you're a DH doesn't mean it's an easy position to play. It's one of the most difficult positions in baseball. When I played first base, I hit .340 for my career, and at DH, I was somewhere around .280. It's an extremely difficult position, and I think I did as well as possible.
Thomas posted a career slash line of .301/.419/.555 with 495 doubles, 521 home runs and 1,704 RBIs in 8,199 at-bats.
Martinez hit .312/.418/.515 with 514 doubles, 309 home runs and 1,261 RBIs in 7,213 at-bats. Voters may need to look deeper to appreciate his impact as he remains one of just 10 players in Major League history to have put up 300-plus home runs, 500-plus doubles, 1,000-plus walks and post a batting average over .300 and on-base percentage over .400.
The others are Hall of Famers Stan Musial, Rogers Hornsby, Babe Ruth, Lou Gehrig and Ted Williams, recent retirees Manny Ramirez (eligible in 2017), Chipper Jones ('18) and Todd Helton ('19) and the still-active Albert Pujols.
Thomas's superior home run and RBI totals clearly are the difference in his candidacy. But Martinez figures a better comparison might be David Ortiz, who has hit .287/.381/.549 with 520 doubles, 431 home runs and 1,429 RBIs in 7,057 at-bats.
Ortiz has a career 137 OPS+, which includes park factors, compared to Martinez's 147 and Thomas's 156.
Ortiz has played 82 percent of his career games at DH, far more than Martinez's 68 percent, so if he draws strong Hall of Fame support five years after his retirement, that could definitely erase any remaining stigma of voting for a designated hitter.
But Ortiz, 38, is still going strong for the Red Sox, and by the time he's eligible for the Hall of Fame, Martinez's window could be coming to a close.
"It could help me if Ortiz gets in," Martinez acknowledged. "But the way he's going, he might play another seven years."
One thing sure to bolster Ortiz's case when the time comes: He's won the Edgar Martinez Award seven times since Commissioner Bud Selig named the Outstanding Designated Hitter Award after Martinez upon his retirement in 2004.
Martinez won the award five times. No other player has ever won the annual DH award more than three times since it was instituted in 1973.
Greg Johns is a reporter for MLB.com. Follow him on Twitter @GregJohnsMLB as well as his Mariners Musings blog. This story was not subject to the approval of Major League Baseball or its clubs.