Hultzen will see Dr. Andrews about shoulder
Hultzen will see Dr. Andrews about shoulder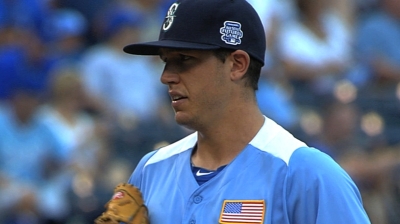 SEATTLE -- Mariners prospect Danny Hultzen's ongoing struggle with injuries isn't over yet.
Hultzen -- the second overall pick in the 2010 First-Year Player draft -- will seek a second opinion from the renowned Dr. James Andrews for discomfort in his throwing shoulder sustained when he arrived in the instructional league.
"[Team doctor] Ed [Khalfayan] saw him and quite frankly doesn't like what he sees," general manager Jack Zduriencik said. "He has every right to have a second opinion and Ed wants him to have a second opinion. We've been in touch with Dr. Andrews and we're trying to work on getting him in there on Thursday and let them look at it, and make a decision at that time."
The talented southpaw threw just 30 2/3 innings in Triple-A this season because of shoulder injuries.
"He's had a couple MRIs and they've come back in good shape," Zduriencik said. "We knew there was an issue in there, but it wasn't a surgical issue. Now for some reason it's either gotten irritated, whatever they case might be, or it's been damaged even a little further, so the rehab program was on."
When healthy, Hultzen has looked every bit the player the Mariners envisioned when they drafted him with their top pick. In his five starts for Tacoma this year, the lefty went 4-1 with a 2.05 ERA. In 2012, he was 8-3 with a 1.19 ERA at Double-A.
Jacob Thorpe is an associate reporter for MLB.com. This story was not subject to the approval of Major League Baseball or its clubs.