Mariners no stranger to playing tight contests
Mariners no stranger to playing tight contests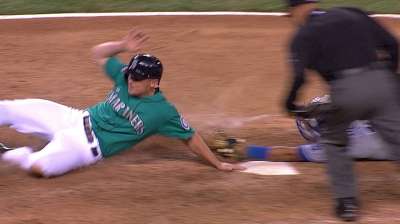 SEATTLE -- In the 10th inning of Monday night's loss to the Royals, Kyle Seager tagged at third on a fly ball to left field and dashed home with the potential winning run, only to be tagged out at the plate by mere inches. The Mariners lost 6-5 in 12 innings -- just another close loss in a season full of them.
"You're going to have some games where you get way out ahead, and some games where the other team does, it's the middle, close games that make your season," Seager said.
Seattle is 19-29 in one-run games, and has lost four of its last five. Since 2011, the Mariners have had nearly one-third of their games decided by one run, and over half have been decided by two or fewer runs. Additionally, the Mariners have played a club-record 21 extra-inning games this season.
If there's a silver lining to those lengthy games, it's that the bullpen, which currently features five rookies, has gotten plenty of work.
"We've had to use all of our guys and because of that we've gained a great deal of experience, they're all young down there," manager Eric Wedge said.
Jacob Thorpe is an associate reporter for MLB.com. This story was not subject to the approval of Major League Baseball or its clubs.