Safe to say, Almonte makes strong first impression
Safe to say, Almonte makes strong first impression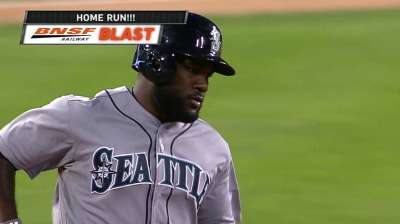 SEATTLE -- When Major League teams expand their rosters in September and call up Minor League prospects, it gives the rookies a chance to experience life as a big leaguer, get some "firsts" out of the way and affirms their progress along the path to The Show. It's also a chance for the youngsters to prove they belong on the same stage as the world's best ballplayers, and few have seized the opportunity like the Mariners' Abraham Almonte.
The 24-year-old Dominican has reached base successfully in each of his 17 games with a plate appearance to open his Major League career, and recorded a hit in 15 of them. The only Mariner with a longer such on-base streak was Alvin Davis, who reached base safely in 47 consecutive games to open his 1984 Rookie of the Year season.
In addition to his prowess at the plate, Almonte has impressed with his speed on the basepaths and his powerful arm in the outfield. Manager Eric Wedge has praised the rookie as being arguably the team's best bunter. And he's gotten better as he's gotten more comfortable, raising his batting average from .258 after 10 games to .281 following Monday's loss to the Royals.
"When you first get here, you're afraid to do a lot of things," Almonte said. "A lot of times you know what's right or wrong, but sometimes you're not sure what to do or not do. But with time I feel more free to play my game and do what I do."
Still, his manager isn't ready to say that Almonte has proved that his skills will translate at the game's highest level.
"You can't prove yourself that quick, but he's shown himself well. But you're not going to -- in baseball, it's not about weeks or a month. It's about months or years," Wedge said. However, Wedge was effusive in his praise of how Almonte has taken advantage of the opportunity, and how the rookie can play any outfield position, while hinting that Almonte will have every opportunity to prove himself again in Spring Training.
Jacob Thorpe is an associate reporter for MLB.com. This story was not subject to the approval of Major League Baseball or its clubs.