Mariners honor memories on 9/11 anniversary
Mariners honor memories on 9/11 anniversary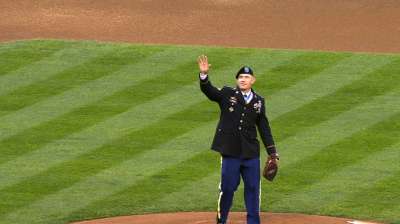 SEATTLE -- The singing of the national anthem before baseball games is part tradition, part declaration. An opportunity to doff one's cap and ratify one's commitment to spending the next three hours taking in America's national pastime before really settling into the seats.
But on Sept. 18, 2001, it meant far more to the citizens of Seattle. With their team in the midst of the successful pursuit of 116 wins, Seattleites rose to their feet express the inexpressible, coming together as a community of baseball fans to support their team, and let their team support them in the aftermath of the Sept. 11, 2001, terrorist attacks.
A day later, when the Mariners beat the Angels, 5-0, to clinch a playoff berth, Mark McLemore and Mike Cameron led a somber parade around the field, hoisting an American flag. What should have been a purely joyous celebration was instead cathartic, and it was about so much more than the postseason.
"I still remember where I was, I guess 12 years ago now, and it's kind of surreal, but I do remember specifically watching the first games back," current Mariners shortstop Brad Miller said. "It just kind of shows you how baseball, and sports in general, can unite people. You can't change anything, but I think it does show how people can rally around sports and use them for some good."
On Wednesday, the Mariners marked the 12th anniversary of the attacks with a moment of silence, special lineup cards and a "We Shall Not Forget" silhouetted ribbon displayed throughout the ballpark.
The ceremonial first pitch was thrown out by Medal of Honor recipient Ty Michael Carter, who received the highest military honor for his attempts to save a fallen comrade and resupply his fellow soldiers during the Battle of Kamdesh.
Carter's actions in battle showed that for him, fear is something that can be overcome. Still, faced with the prospect of throwing a pitch, in uniform, in front of thousands of fans, Carter allowed that there were some butterflies in his stomach.
"It's always kind of nerve-wracking," Carter said. "Not because I don't want to embarrass myself, but because I don't want to dishonor or disrespect the medal because of what it represents: The men that day, the soldiers that fell and also the Gold Star families. So every time I put the Medal on I'm automatically nervous, because I just can't do something stupid."
Jacob Thorpe is an associate reporter for MLB.com. This story was not subject to the approval of Major League Baseball or its clubs.