Wilhelmsen working his way back in bullpen
Wilhelmsen working his way back in bullpen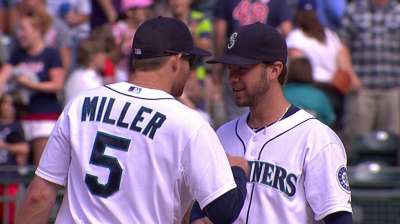 SEATTLE -- Former closer Tom Wilhelmsen saw his most-extensive duty Saturday since rejoining the Mariners as a September callup, and the big right-hander worked his way in and out of trouble in a scoreless seventh inning in Seattle's 6-2 win over the Rays.
Wilhelmsen walked the first two batters he faced and was initially having trouble throwing his fastball for strikes. But after a wild pitch moved both runners into scoring position on a wild pitch, he dug in and retired the next three batters in order.
"Where he was at the end vs. where he was at the beginning, were night and day for me," manager Eric Wedge said. "This guy obviously has to get his confidence back, he has to trust his fastball, trust his stuff. He has to get back to the bulldog mentality. And he has to do it.
"He took the job as the closer and he lost the job as closer. That was something that he did. So what he has to do is get himself back to being a guy who is a viable option for us up here at this level. There's no reason he shouldn't do that. But it has to start up here," Wedge said, pointing to his head. "He's only pitched a few times. It takes time."
Wilhelmsen faced just a total of three batters in his first two appearances, getting two outs and giving up a hit while throwing just five pitches as Wedge got him in and out quickly. But Saturday's outing gave Wilhelmsen an opportunity to work his way through more things in a 26-pitch outing and Wedge said that's a big step.
"It's that eye of the tiger, that's what he has to have and that's what he has when he's really going good," Wedge said. "Hey, he got beat up a little. It happens. You've got to pick yourself up by the bootstraps and get back on. And that's what he's doing. I was really proud of what he did last night. He made it tough on himself again, walking that leadoff hitter and working from behind. But he squeezed by and he did get by. He had to dig deep for that.
"The biggest part of it is the fastball command, no doubt. He was obviously comfortable going to his breaking ball, which is what he did to get himself going again. Commanding the fastball, driving that ball down on the plate, is what he has to get back to."
Greg Johns is a reporter for MLB.com. Follow him on Twitter @GregJohnsMLB as well as his Mariners Musings blog. This story was not subject to the approval of Major League Baseball or its clubs.