Hultzen continues to improve with new motion
Hultzen continues to improve with new motion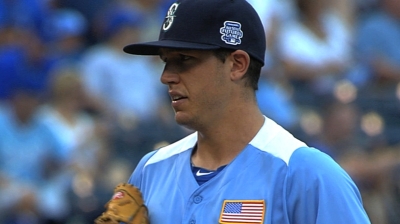 SEATTLE -- Danny Hultzen, the Mariners' top left-handed pitching prospect, threw three simulated innings prior to Saturday's game at Safeco Field as he continued working on a revamped arm motion designed to alleviate the pressure on his left arm.
Hultzen threw only 35 2/3 innings in seven games this season while dealing with shoulder problems. But he faced teammates Abraham Almonte, Carlos Triunfel, Humberto Quintero and Henry Blanco and threw 51 pitches as general manager Jack Zduriencik, manager Eric Wedge, pitching coach Carl Willis and trainer Rick Griffin watched closely from behind the batting cage.
Hultzen, 23, threw two scoreless frames for Triple-A Tacoma on Sunday in his first live action since June and now will head to Instructional League and then the Arizona Fall League to continue working his way back.
"I'm just glad to be pitching again," said the 2011 first-round Draft pick. "I've spent too much time sitting on the bench watching, so I was glad to be back out there today."
Before starting his session, Hultzen drew a straight line on the mound in front of the pitching rubber toward home plate as a reminder of where he wants his front foot to land on his delivery.
"I had an issue of stepping really far across my body," he said. "That probably put a lot of stress on my shoulder. If you're throwing that far across your body, I'm not saying it was the cause of what happened, but it could have been. We watched video from college and I was a lot straighter then. Still across my body, but there was a big difference from what it was in college and how I was throwing at the beginning of this year."
The Mariners brass was pleased with what they saw Saturday.
"He looked free and easy," said Zduriencik. "This is good for him to get back out there. Continued steps."
With James Paxton making his first Major League start on Saturday night on the heels of Taijuan Walker's recent debut, Zduriencik and Wedge said it's encouraging to start thinking of what lies ahead with the promising pitching group.
And despite his largely lost season, Hultzen now is itching to get back into that mix and is encouraged by his latest steps on the mound.
"It gives me something to build off," he said. "I have the opportunity now to go down to Arizona and get a lot better as a baseball player. That's the way I'm looking at it. It's kind of what I've learned from this experience, to not take anything for granted. I know that sounds kind of sappy, but when you're healthy and having fun, you take that for granted sometimes. When it's taken away real quick like that, it kind of puts it in perspective."
Greg Johns is a reporter for MLB.com. Follow him on Twitter @GregJohnsMLB as well as his Mariners Musings blog. This story was not subject to the approval of Major League Baseball or its clubs.