Ibanez has high hopes for himself down the stretch
Ibanez has high hopes for himself down the stretch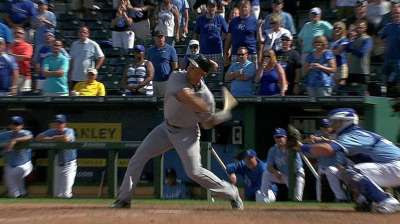 SEATTLE -- It's been a tale of two halves for Raul Ibanez this season, but the Mariners veteran isn't about to write off the last three weeks of play as Seattle heads down the stretch in his 18th Major League campaign.
Ibanez hit a game-tying pinch-hit home run in the top of the ninth inning in Seattle's 7-6 13-inning loss to the Royals on Thursday, just the second homer since July 12 for a man who leads the club with 26 for the season.
Ibanez hit .267 with 24 homers and 56 RBIs in 76 games prior to the All-Star break, but just .231 with two homers and five RBIs since going into Friday's series opener with the Rays. But he's heated up of late, batting .360 (9-for-25) over his last eight games and feels like he's back on track.
"I think I've been swinging better lately," said the 41-year-old outfielder. "I've been seeing the ball better. And even when I wasn't feeling that well, I was battling every at-bat. Obviously, the ball wasn't going over the fence and I wasn't getting that part of it. But I was scratching and I felt I was putting some at-bats together, fouling pitches off, having long at-bats and all the stuff you need to create momentum."
His goal for the final 22 games?
"Win," Ibanez said with a smile. "Win as many games as we can. We've got three weeks left and I think it's a good thing to set the tone for these young guys for next season, to create an environment that is young and competitive and winning and make some stuff happen on the field. Good things have a carryover effect and bad things sometimes have a carryover as well, so to create a good carryover effect for everyone is important."
Ibanez has seen his playing time reduced in recent weeks, but manager Eric Wedge had him starting Friday's opener of the Rays series after his pinch-hit home run Thursday. Ibanez's solo shot off Royals closer Greg Holland was the Mariners' first two-out, ninth-inning, game-tying pinch-hit homer since Brian Hunter's two-run shot tied up a game in Detroit on Aug. 3, 1996.
"I thought that was the best ball he'd hit in a while, but he's hit a couple like that lately," Wedge said. "Obviously, he's had a tremendous year. When you impact a ballgame like he did last night, you want to give him a chance to get back in there. It's a fine line for us. Obviously, we've got a lot of young kids up here that want to play and need to play. But you have to also respect a Major League season and what Raul's done for us and Kendrys Morales as well as a few of the other veterans."
Greg Johns is a reporter for MLB.com. Follow him on Twitter @GregJohnsMLB as well as his Mariners Musings blog. Jacob Thorpe is an associate reporter for MLB.com. This story was not subject to the approval of Major League Baseball or its clubs.