Zunino focusing on strong September
Zunino focusing on strong September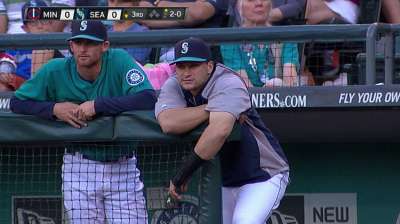 KANSAS CITY -- Mike Zunino is back with the Mariners and eager to use the month of September as a springboard toward what he anticipates will be a strong 2014 season.
"I'm really excited for this last month," Zunino said. "I'm focused on what I want to get done. Hopefully, I can continue to swing the bat well, catch the staff and go from there."
Zunino was activated on Monday after recovering from a broken hamate bone in his left wrist that forced him to miss 34 games. He played in five rehab games for Triple-A Tacoma before joining the Mariners in Kansas City. Manager Eric Wedge immediately penciled Zunino into the Labor Day lineup as the catcher for Felix Hernandez.
"The rehab went great," Zunino said. "Once I was able to start doing baseball stuff, the grip strength came back quickly."
Wedge believes Zunino's ability to handle the pitching staff is a key component for the Mariners going forward.
"It's not a reflection on anybody else," Wedge said. "It's just a positive toward him -- his energy, his youth, his knowledge. Though he's young, he's very mature and very advanced. He has a passion to continue to learn about his pitchers. Knowing he is going to be here, there's a calm about that, too."
Prior to Monday, Zunino didn't have a lot of experience catching Hernandez.
"I think he's up for it," Wedge said. "We've only got so many games left, and he's ready to play. My hope would be that he's going to be catching Felix quite a bit in his career."
Robert Falkoff is a contributor to MLB.com. This story was not subject to the approval of Major League Baseball or its clubs.