Ackley gaining confidence in center and at plate
Ackley gaining confidence in center and at plate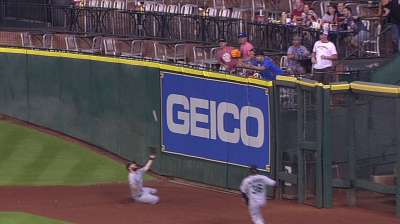 HOUSTON -- A year of transition for Dustin Ackley is turning into a breakout second half as the Mariners new center fielder has begun putting things together both at the plate and in the field.
As the second pick in the 2009 First-Year Player Draft, Ackley carried high expectations upon arrival in Seattle two seasons ago. But after struggling through 2012 and the first half of this year, the 25-year-old finally seems to have found his comfort zone.
After going 4-for-5 with a triple and four RBIs in Friday's 7-1 win over the Astros, Ackley was batting .411 (30-for-73) in August and .364 (40-for-110) since the All-Star break, raising his season average from .205 to .261. And in the outfield, he unleashed his best moment since transitioning from second base in midseason when he made an outstanding catch of a ball deep in the right-center gap to rob Robbie Grossman of an extra-base hit.
Manager Eric Wedge noted Ackley has played somewhat cautiously in the outfield as he's felt his way through the new position, but was able to let loose on Friday's aggressive catch in the fifth on a ball he hauled in at the base of the hill in Minute Maid Park's unique configuration.
"It's been somewhat unfair to him having to learn on the fly up here in center field," Wedge said. "I know he had a little bit of time in Triple-A, but that's tough to do up here with the speed of the game and different ballparks.
"There've been a few balls where if he kept going as fast as he is, he might have gotten to that he pulled up on, which is normal just because you don't know the ballpark and you're trying to be smart and make the right play. But that was one there where he kept going and made a heck of a catch. You see his progress whether it be jumps on the ball or routes or angles. You really see him getting better from week to week."
"Everything for me in the outfield is kind of learning on the fly," Ackley acknowledged. "Just how to approach balls. I've never had a play where I've slid like that at the wall and had to avoid running into it. Everything for me right now is just learning different plays and different things, especially with the hill out there."
Ackley has less to learn about hitting, which is something he's always done at every level until he batted just .226 last year and then struggled at the .200 mark until a midseason demotion to Triple-A Tacoma. But after toying with a new stance, he's finally gotten back to feeling comfortable at the plate again as well.
He got hits to left, center and right field on Friday, a welcome sign that he's seeing the ball well and hitting where he's pitched now.
"And different types of pitches, too," Wedge said. "He turned around that fastball late with the bases loaded right back up the middle. The breaking ball to right field, the changeup to left field. You know what? You can really see his confidence growing, you can see his feel for the game getting better, his feel for different situations getting better, too."
For Ackley, it's just getting back to being what he's always been, a natural hitter.
"Yeah, I think now it's just something where I can really trust in my swing, where before I didn't really trust it and all that," he said. "Now it's gotten back to how it used to feel and that's why I'm mentally focused every at-bat and ready to hit."
Greg Johns is a reporter for MLB.com. Follow him on Twitter @GregJohnsMLB as well as his Mariners Musings blog. This story was not subject to the approval of Major League Baseball or its clubs.