Catcher Blanco doubles up phenom Walker in age
Catcher Blanco doubles up phenom Walker in age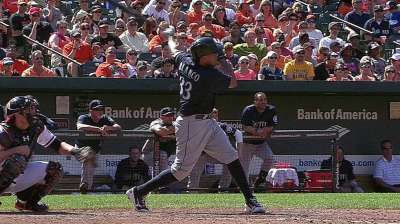 HOUSTON -- Mariners catcher Henry Blanco turned 42 on Thursday, which made for perfect timing when it came to working with rookie Taijuan Walker in his Major League debut on Friday.
The veteran backstop is exactly twice as old as Walker, who turned 21 two weeks ago.
"That's got to be up there," manager Eric Wedge said of the age discrepancy in his battery. "But good for Henry and good for Taijuan. To have somebody back there that has been through all that, it has to be something of a comfort zone I would think. I do feel good about that."
According to Elias, the last time a starting battery had an age difference of at least 20 years was last season when the Rockies' Jamie Moyer and Wilin Rosario were 27 years, 98 days apart.
But the last time a starting battery had an age difference of at least 20 years when the catcher was the older player was 1993, when Carlton Fisk and Alex Fernandez had an age difference of 21 years, 231 days with the White Sox. The age difference between Blanco and Walker is 20 years, 350 days.
How does it feel for Blanco to catch a guy half his age?
"Good," Blanco said with a smile several hours before Friday's game. "It's going to be fun. We haven't sat down and talked yet. But we'll go over the scouting report and do the best we can."
Blanco's advice for the youngster will be pretty simple.
"Just focus on the hitter," said Blanco, who will be catching his 808th game in 16 Major League seasons. "I know there are going to be some butterflies in his stomach. But I'm sure they'll get out of there after the first hitter. Just work the strike zone and hopefully we'll get him some runs so he can relax a little."
Blanco said the clubhouse has changed a lot since his own rookie days in 1997 with the Dodgers. More players are on computers and iPads rather than sitting and talking baseball or playing cards.
"There are not as many older guys," Blanco said. "Raul [Ibanez] and I, we have a few stories. But it's fun to be around the young talent and the young kids now. Hopefully they play the game for a long time."
Greg Johns is a reporter for MLB.com. Follow him on Twitter @GregJohnsMLB as well as his Mariners Musings blog. This story was not subject to the approval of Major League Baseball or its clubs.