Recovering Franklin appears as pinch-hitter
Recovering Franklin appears as pinch-hitter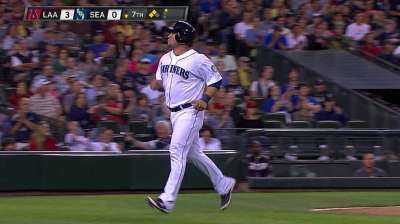 SEATTLE -- Nick Franklin made his first appearance for the Mariners since receiving five stitches following a home-plate collision with A's catcher Derek Norris on Tuesday. After missing his third straight start to allow his left knee to continue to heal, Franklin entered Saturday's game as a pinch-hitter in the bottom of the seventh inning, driving in a run with a groundout to third. Franklin remained in the lineup for the rest of the game.
Veteran shortstop Brendan Ryan got the start against Angels lefty Jason Vargas, with Brad Miller sliding over to second base.
Franklin, who is hitting .239 with 11 home runs and 39 RBIs in 69 games, said before the game that he felt close to returning.
"I'm feeling pretty good. It just takes a little time to heal," Franklin said. "Yesterday I was able to run a little and take some ground balls. Hopefully I'll be back in there [Sunday]."
Manager Eric Wedge had Dustin Ackley back in center field on Saturday after playing him at second base on Friday in place of Franklin, and the manager said that versatility could pay off in the long run.
"Early on when we made the transition, we wanted to stay away from that," Wedge said. "But once he got a little time under his belt in the outfield, we've talked about it and I feel like it's OK for him. You've got a guy you're comfortable playing at first, second, left or center field. And I don't think that's a bad thing. As he continues to develop and some of these other kids develop, who knows where he'll end up? So I'm very comfortable with it."
Wedge used Tampa Bay's Ben Zobrist as an example of how such a versatile player can help a club.
"Zobrist came up as a shortstop and they started bouncing him around," Wedge said. "And how valuable is he to that team, not just as an offensive player but for the flexibility he provides with all the other guys? They're able to put their best lineup out there because of the way Ben can move around."
Greg Johns is a reporter for MLB.com. Follow him on Twitter @GregJohnsMLB as well as his Mariners Musings blog. This story was not subject to the approval of Major League Baseball or its clubs.