Ackley starting to hit stride at the plate
Ackley starting to hit stride at the plate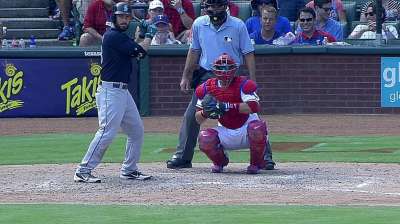 OAKLAND -- After struggling in the first half of the season, Dustin Ackley is finally performing the way Seattle hoped he would when it chose him with the second-overall pick of the 2009 First-Year Player Draft.
Ackley is batting .321 in 22 games since the All-Star break and .279 since he was recalled from Triple-A Tacoma on June 25.
"I feel like ever since I came back up, I felt a lot better from a hitting standpoint," Ackley said. "I've had better at-bats than I've had in a long time."
Seattle has converted Ackley from a second baseman into an outfielder, and the Mariners are 17-10 in his 27 starts in center field, but his bat continues to be his strongest asset.
He credited a less passive approach and a better mindset to his recent upswing at the plate.
"I think the toughest part about this sport is that aspect of just trusting what you're doing and knowing every day that you're doing the right things and you're working hard," Ackley said. "In other sports you see the results right away, as opposed to baseball, where it might take five days before you hit a line drive that finds a hole or hit a ball in the gap.
"When you line out, you might start thinking, 'Oh, should I have been doing this, should I have been doing that?' But I think when you start not thinking and whatever happens, happens, control what you can control, things start to work out."
Jeff Kirshman is an associate reporter for MLB.com. This story was not subject to the approval of Major League Baseball or its clubs.