Seager's swing quite successful at Rangers Ballpark
Seager's swing quite successful at Rangers Ballpark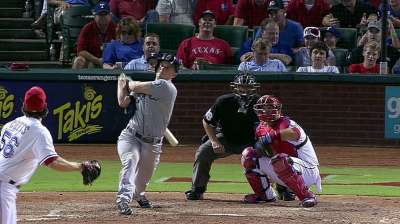 ARLINGTON -- Kyle Seager has hit well everywhere he's gone in his two-plus seasons with the Mariners, but the young third baseman seems to have a particular fondness for Rangers Ballpark in Arlington.
Going into Saturday's game with Texas, Seager had hit .374 with 17 runs, 12 doubles, five home runs and 13 RBIs in 22 games at Rangers Ballpark. Since May 29, 2012, he's batted .500 (26-for-52) with three home runs, including the go-ahead two-run homer in the eighth inning of Friday's 3-1 victory.
In seven games this season, Seager is batting .536 (15-for-28) with three home runs in Arlington. His .374 career average at the Ballpark is second-highest among all active players and sixth-highest all-time among players with at least 75 at-bats at the park.
"I don't know necessarily what the right answer is," Seager said of his Arlington success. "That's a good pitching staff, so it's not like that's the case. But a couple times we've come here before and I made a few adjustments and hopefully I've got into a little rhythm."
Seager has some other favorite American League parks as well. He's hit .419 in 10 games at Progressive Field in Cleveland and .405 in 10 games at Rogers Centre in Toronto. He's fared better on the road in his career, batting .299 in 161 away games and .236 in 166 games at Safeco Field.
Seager has hit .267 with six home runs at home this year and .300 with 12 home runs on the road.
Greg Johns is a reporter for MLB.com. Follow him on Twitter @GregJohnsMLB as well as his Mariners Musings blog. This story was not subject to the approval of Major League Baseball or its clubs.