Felix the same guy one year after perfecto
Felix the same guy one year after perfecto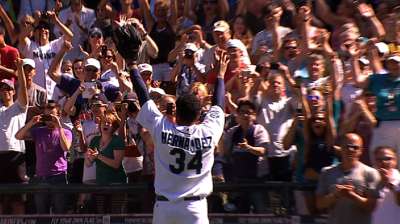 ST. PETERSBURG -- Exactly one year after throwing his first perfect game, Felix Hernandez was asked what has changed for him since that historic day at Safeco Field.
"I don't know. You tell me." Hernandez said with a grin. "I don't know. I'm the same guy."
The Mariners ace does indeed seem to have remained the same hard-working, fun-loving character in the wake of that 1-0 perfecto on Aug. 15, 2012, against the Rays. But things have changed around him.
Of the nine Mariners who started alongside Hernandez that day, only four were in the lineup against the Rays on Thursday at Tropicana Field as Seattle closed out a three-game set.
First baseman Justin Smoak and third baseman Kyle Seager are still in their same positions, while center fielder Michael Saunders is now playing left, and Dustin Ackley was penciled into center Thursday after playing second base a year ago in the perfect game.
The rest of the Mariners from that day? Shortstop Brendan Ryan is still on the team, but didn't start Thursday. Designated hitter Jesus Montero is in the organization, but not with the Major league club. Gone completely are catcher John Jaso, left fielder Trayvon Robinson and right fielder Eric Thames.
Hernandez's own memory remains perfectly intact, of course.
"I don't know if anything was different than usual, but I felt pretty good," he said. "It was just one of those days, you know? Everybody was in the right position. It was the right day, I made the right pitches. That was a perfect day."
Manager Eric Wedge isn't with the team now either, continuing to recover from a minor stroke that has sidelined him since June 22. Acting manager Robby Thompson was the bench coach that day, however, and looks back fondly as well.
"How can you not?" Thompson said. "Watching that game and having that knot in your gut, waiting for that last out. Any time Felix takes the mound, he's got a chance to do that. There are several guys throughout the league that legitimately have that chance to throw a no-hitter or perfect game. So nothing surprises me, but perfect games and few and far between. That was a day we'll all remember."
Ryan said playing shortstop in that game was emotionally draining.
"Man, that was one of the best baseball memories of my life," Ryan said. "There's nothing that could be more pressure-packed. I think Game 7 of the World Series could be the only thing, because in that position, it's like only bad can come of it if you [mess up] this wonderful, masterful game that is being pitched in front of you.
"But to see the emotion of Felix and having played behind him for a couple years, to see how genuinely thrilled and excited he gets after you make a play behind him, there's no phoniness there, and that made it all the more special."
Greg Johns is a reporter for MLB.com. Follow him on Twitter @GregJohnsMLB as well as his Mariners Musings blog. This story was not subject to the approval of Major League Baseball or its clubs.