Wedge to return only when he's completely healthy
Wedge to return only when he's completely healthy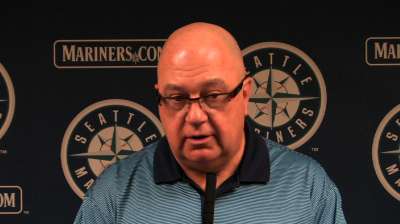 BALTIMORE -- Mariners manager Eric Wedge has been sidelined two weeks now after a minor stroke on July 22, and general manager Jack Zduriencik indicated Sunday that the third-year skipper won't be ready to return yet when the team opens a six-game homestand Monday.
Wedge, 45, remained in Seattle while the team traveled to Boston and Baltimore and will continue to undergo medical tests and be reevaluated in the coming days as he awaits full clearance.
Zduriencik said Wedge is doing well, but he doesn't want him to return to work until it's certain he'll be able to withstand the rigors of the job without any setbacks.
"I don't think Eric will be with us this week," Zduriencik said prior to Sunday's series finale with the Orioles. "I know he has a couple appointments ongoing. He's got something midweek where he's going to sit down with doctors.
"He's doing well. I talk to him every day and he sounds normal and he's excited to get back here. He wants to get back. But when Eric gets back, you want him to be back. His anxiousness to get back here in the dugout is one thing, but this is a life-long health issue for him. When he gets back managing this club, we want him to be here. You don't want him to come in here and be here for two or three days.
"The stress of a ballgame, the length of time a manager has to put in and the way he is -- he comes early and leaves late -- from our standpoint, they just need to sign off and say you're 100 percent ready to go so we don't have a bump in the road where he's out here 3-4 days and then has to take a step back. That's not fair to Eric or fair to the ballclub. I think we'll just wait and give it a little more time."
Zduriencik said he'll make a further determination when he sits down with Wedge upon returning to Seattle.
"I'll know more in the middle of the week and Eric will as well," Zduriencik said. "I'm anxious to get together with him as soon as I get back home and talk to him and see how he feels, and we'll address it at that time. But when he comes back, we want him to come back full-time and complete."
Greg Johns is a reporter for MLB.com. Follow him on Twitter @GregJohnsMLB as well as his Mariners Musings blog. This story was not subject to the approval of Major League Baseball or its clubs.