Farquhar gets opportunity for ninth-inning role
Farquhar gets opportunity for ninth-inning role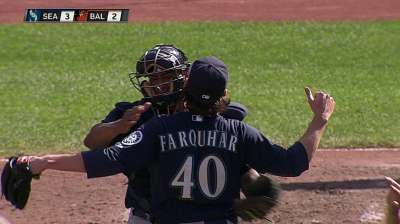 BALTIMORE -- Mariners acting manager Robby Thompson hasn't made any official pronouncement about Danny Farquhar being the team's new closer, but the 25-year-old rookie right-hander got his second straight save in Sunday's 3-2 win over the Orioles and appears to be in line for more if he keeps producing in clutch situations.
Farquhar had 69 saves in his Minor League career, so he's familiar with the pressure of being on the mound in the ninth inning, and he says nothing much changed when he was called on to slam the door on the Orioles the past two days.
"To be honest, I was closing for maybe five years in the Minors and it's the same thing," said the 5-foot-9, 180-pounder. "The music gets loud, the crowd gets loud. You know, what's actually crazy is I went down to Venezuela last offseason and closed down there for a little bit. And the noise level down there, no Major League stadium can compare to it.
"I pitched in front of 45,000 on the Fourth of July in Texas [earlier this season] and I would say the 20,000 fans in Caracas trumped that night and day. The mound was moving. I got through a save there. So if you can get a save down there, it gets you ready for the big leagues. Baseball down there is everything. You have to go down there and compete and the pressure to win down there is like no other. The pressure of pitching down there definitely is crucial to my game."
Thompson said he'd go with a bullpen-by-committee approach after Tom Wilhelmsen struggled in a tough loss at Fenway Park when Seattle blew a five-run lead on Thursday, but Farquhar now has gotten the call in the first two save situations, even when the Orioles had several tough lefties lined up in the ninth on Saturday.
"You know what, this whole lefty-righty thing doesn't really bother me," said Farquhar. "I've got weapons for lefties, I've got weapons for righties. It doesn't really matter who is in the box; I'm going to attack them with what I've got and execute my pitches. That's the best I can do."
Farquhar, acquired from the Yankees in the Ichiro Suzuki trade last season, was called up in mid-May. While his ERA is 5.09 in 24 appearances, he's struck out 53 batters in 35 1/3 innings. And since July 21, he's allowed just two hits and no runs in 11 2/3 innings over seven outings, with 18 strikeouts and four walks.
"We've talked about mixing and matching, but he's been one of our most consistent arms out of the bullpen," Thompson said after Sunday's win. "Once again he got to the curveball and cutter, the four-seamer. We'll just try to ride it out as long as possible."
Greg Johns is a reporter for MLB.com. Follow him on Twitter @GregJohnsMLB as well as his Mariners Musings blog. This story was not subject to the approval of Major League Baseball or its clubs.