Blanco makes grand return in twilight years
Blanco makes grand return in twilight years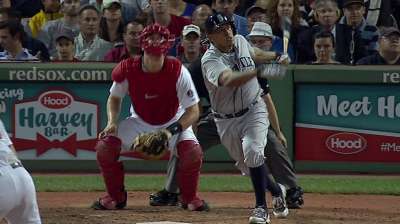 BALTIMORE -- Henry Blanco hit one grand slam in his first 15 years in the Majors, that coming in 2000 when he was a youngster with the Brewers. But now the 41-year-old has cranked out two in 16 games with the Mariners, becoming the second-oldest catcher in Major League history to hit a slam.
Carlton Fisk is the only older catcher to hit a grand slam, having done so at age 43 in 1991 for the White Sox.
Blanco cleared the bases for the second time since signing with Seattle in mid-June with his fifth-inning shot in Thursday's 8-7 loss at Boston. At the time, the blow gave Seattle a 7-1 lead and put Felix Hernandez in position to notch his 12th win of the season, until the bullpen wilted in the ninth as the Red Sox stormed from behind.
Blanco was as hard pressed to explain the oddity of hitting two slams in short order for Seattle as he was figuring out the last-inning loss.
"Sometimes, things are hard to explain," said Blanco. "But I wasn't thinking about [hitting a home run]. I was just looking for a pitch where I could drive in one run or two. It ended up being a grand slam. But the main thing is we ended up losing the game, so for me, it didn't count."
As for the heart-wrenching loss?
"Unbelievable," Blanco said. "But this game is like this. You never know what's going to happen and unfortunately we couldn't finish. I thought the umpire missed one pitch on Jonny Gomes and unfortunately it ended up costing us the game. But in the meantime, we should have ended it before."
Blanco went out to the mound several times to talk to closer Tom Wilhelmsen, who had trouble with his command, as he walked two batters and gave up a single and double before being replaced.
"I was just trying to slow him down," Blanco said. "We had a 7-2 lead and I was telling him to just throw the ball right down the middle so they could hit it. That's going to happen sometimes. We just have to try to eliminate that and move forward and try to get it done today."
Greg Johns is a reporter for MLB.com. Follow him on Twitter @GregJohnsMLB as well as his Mariners Musings blog. This story was not subject to the approval of Major League Baseball or its clubs.