Miller takes it all in during first Fenway experience
Miller takes it all in during first Fenway experience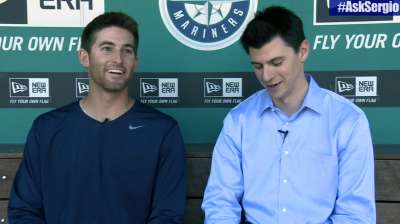 BOSTON -- For Mariners rookie shortstop Brad Miller, part of the thrill of his first tour around the Major Leagues is the chance to play in new ballparks. And competing in Fenway Park this week has been right at the top of his list.
Miller, 23, grew up in Orlando, Fla., but came to Fenway with family friends to watch a game in 2005 while he was in high school, then took batting practice at the historic park while playing with Team USA during his freshman year at Clemson in 2009.
So the chance to suit up and start Major League games at the 101-year-old facility has been a dream come true for the youngster.
"I was 18 or 19 when I came here with Team USA, so that was pretty cool to tour everything," Miller said. "We went into the Monster and all that stuff. All the history is so cool. All the guys on that team were saying, 'This is where we want to be one day.' So yeah, it's been sweet to come back here for the real thing."
Miller committed an error on the first ground ball hit to him in the series opener Tuesday, but says he hasn't been overwhelmed about playing at Fenway once he settled in.
"You're just focused on the game itself," he said. "That's all your worried about. Everything else kind of takes a back seat. I'm watching the hitter or pitcher. There's a lot going on out there, so you can't really get distracted or really take it all in. But it's a beautiful park and obviously a good crowd. It makes it a lot of fun."
But that doesn't mean he's taken the opportunity for granted. Miller and several teammates went out to the Green Monster to get the tour inside the wall prior to the opening game of the series and he's soaked in the atmosphere when he's had time to enjoy the ballpark's charm.
"It's got that old-school feel, with all the character," he said. "That's the neat thing about baseball. Each place has its own little personality. Everything is unique. Even in the Minor Leagues and college, just going to new parks and exploring everything, that's one of my favorite parts. Just seeing what each city and stadium is about, it's pretty cool."
Greg Johns is a reporter for MLB.com. Follow him on Twitter @GregJohnsMLB as well as his Mariners Musings blog. This story was not subject to the approval of Major League Baseball or its clubs.