Mariners keep all their cards at Trade Deadline
Mariners keep all their cards at Trade Deadline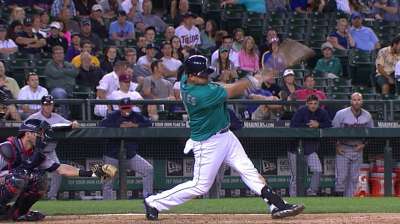 BOSTON -- Jack Zduriencik took numerous calls on potential trades for some of his veteran players leading up to Wednesday's non-waiver Trade Deadline, but in the end, the Mariners' general manager chose to stay pat with a club that has built some positive momentum with a 15-9 record in July.
"There were discussions," Zduriencik said. "But at the end, I didn't think there was the right situation for us at this time. There's an obligation here to our fans and certainly to the players here on this team. They've played well recently."
Zduriencik chose to hang on to veteran hitters Kendrys Morales, Michael Morse and Raul Ibanez, as well as reliever Oliver Perez, starter Joe Saunders and shortstop Brendan Ryan, all players on one-year deals who could become free agents at season's end, in the hope of finishing strong and setting the right tone going forward.
"I think we have a good young big league club right now. You see that in front of your eyes," he said. "To detract from it, I think it would have been devastating to some of the guys in this clubhouse. I think it would have been the wrong message to send. So you stay the course and watch this club play the next couple months."
While the Mariners could lose those key veterans without any return, Zduriencik says there is a benefit to keep them for the final two months.
"When you let a guy leave, it's harder to get a guy back," he said. "Once you break your marriage up and you want to go back and ask that player to come back, it's much harder to do. He probably feels somewhat betrayed. Now you have to start all over again.
"Having these guys here -- certainly they have the right to walk -- but we also have the first right to re-sign them if we choose," he said. "And I think that's important to a player, especially if they like Seattle. If they are saying, 'I'd like to be part of this thing going forward. I like what's going on. It would be great.' Who knows, we may have the inside track on some of these players back here. That was a little bit of the thinking as well."
In that vein, Zduriencik said he's had communication already with some of the pending free agents.
"I think some of the players understand how we feel about them," he said. "I've had indirect conversations with them. Some I've had direct, quite frankly. But I do think as we move forward from now til the end of the year, that will accelerate as we get closer to the end."
Acting manager Robby Thompson was pleased to see the club kept together.
"We weren't going to just give guys away for some A-ball prospect or what have you," Thompson said. "We're good with where we're at. We did get Michael Morse back [from the disabled list Tuesday] and we'll see if he can't get back in the flow of things. Soon hopefully we'll get Stephen Pryor back and following that maybe Franklin Gutierrez. Those are the kinds of guys that will add back to our club without losing a Morales or even an Ibanez or a Morse."
Greg Johns is a reporter for MLB.com. Follow him on Twitter @GregJohnsMLB as well as his Mariners Musings blog. This story was not subject to the approval of Major League Baseball or its clubs.