Ibanez's bat cooling off after hot streak
Ibanez's bat cooling off after hot streak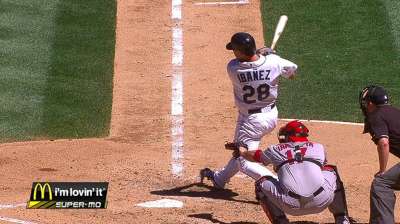 BOSTON -- After a torrid stretch during which he hit 15 home runs in 35 games in June and early July, Raul Ibanez has cooled considerably. The 41-year-old Mariners left fielder didn't have a home run in his last 12 games going into Wednesday's contest against the Red Sox.
He'd gone 10 straight games without an RBI since the All-Star break, hitting .135 (5-for-35) in that span as his batting average dipped to .252. Ibanez still has 24 home runs, but he's been stuck on that number since hitting a pair on July 12.
Acting manager Robby Thompson had Ibanez in the lineup again Wednesday, but acknowledged the club needs to be careful with the veteran's playing time if he's wearing down.
"Sure, you have to worry about that," Thompson said. "He's 41 years old. You can't forget about that. He's in great shape, he's going to play every day, he's not going to say he's tired. It's our responsibility to pick spots.
"But the stretch he went through doesn't last forever. That was a heck of a stretch he was on. After awhile, you don't see the ball as well for whatever reason. If we all knew that answer, nobody would go into slumps and everybody would be great hitters."
Thompson saw some positives in Ibanez's 1-for-4 night on Wednesday and knows he's constantly adjusting.
"He had a couple good at-bats [Tuesday] night and lined out with the ball to right and ended up getting a base hit," said Thompson. "When you struggle a little, you start swinging out of the zone. He's done that a little with balls that were elevated or down in the dirt. Guys knew what he's going through and how he was swinging the bat. They're going to move the ball around a little on him.
"He's a professional hitter and he'll make that adjustment. But yes, we do have to keep an eye on him. We're going into August and he's 41 years old. And a good 41 years old."
Greg Johns is a reporter for MLB.com. Follow him on Twitter @GregJohnsMLB as well as his Mariners Musings blog. This story was not subject to the approval of Major League Baseball or its clubs.