Wedge meets with team for first time since stroke
Wedge meets with team for first time since stroke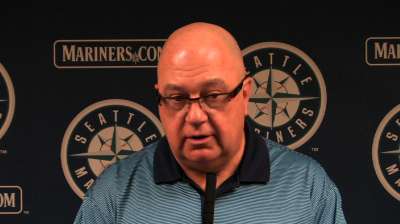 SEATTLE -- Before the Mariners' series finale with Minnesota on Sunday, skipper Eric Wedge privately met with the team for the first time since having a mild stroke before Monday's game. Bench coach Robby Thompson has been filling in for Wedge while the manager recovered in the hospital and then at home.
"It was great; they saw him, he's doing well," Thompson said. "Walking good, talking, I mean the whole thing. Big smile on his face, probably be tough for him to leave right now and head back home, as we all know he'd love to stay here."
The Mariners do not have a timetable for Wedge's return, and he will stay in Seattle during the team's six-game road trip. The earliest he could rejoin the team is Aug. 5 against the Blue Jays.
"It was serious, and he knows that; he knows that he has to stay away until he's strong and ready," Thompson said. "[His return will] be up to Eric and a whole lot of doctors, staff. He'll know when the right time is."
Jacob Thorpe is a reporter for MLB.com Follow him on Twitter at @Jacob_B_Thorpe. This story was not subject to the approval of Major League Baseball or its clubs.