Quintero is latest to set up behind plate
Quintero is latest to set up behind plate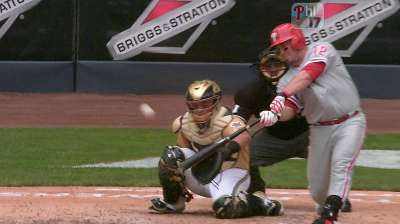 SEATTLE -- When Humberto Quintero made his first start behind the plate for Seattle on Saturday, he became the seventh catcher to start a game for the Mariners this year. The club has gone through a plethora of backstops because of callups, injuries and transactions.
Neither of Seattle's Opening Day catchers are still with the team, as Jesus Montero was demoted to Triple-A before sitting out two months with a torn left meniscus, while Kelly Shoppach was designated for assignment when the club signed veteran backstop Henry Blanco.
Quintero was signed Friday to provide depth at catcher after Mike Zunino -- the third overall pick in the 2012 MLB First-Year Player Draft -- broke the hamate bone in his left wrist. The injury is expected to keep Zunino out six weeks. Prior to the injury, Zunino had excelled at the plate, hitting .346 with six walks and five RBIs over his previous nine games.
"Unfortunately we've got a lot of guys hurt, but you have to use what you have to use," Blanco said. "We're just trying to stay strong and keep winning some ballgames; that's what we need right now."
An 11-year veteran, Quintero has never played more than 88 games in a season. In 24 games with Philadelphia this year, he hit .250 with two home runs before being designated for assignment Wednesday.
"He's in there today; I've never really seen the guy play, so we're excited about having him filling in for Mike Zunino," bench coach and acting manager Robby Thompson said before Saturday's game against the Twins. "He was out earlier throwing a little bit, throwing down to second kind of getting loose. I look forward to seeing him play."
Jacob Thorpe is an associate reporter for MLB.com. This story was not subject to the approval of Major League Baseball or its clubs.