Thompson staying in contact with resting Wedge
Thompson staying in contact with resting Wedge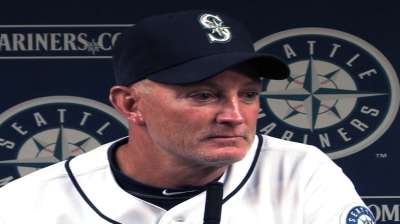 SEATTLE -- Mariners bench coach Robby Thompson continued his duty as interim manager in place of Eric Wedge on Thursday after the team learned following Wednesday's game that their skipper would miss at least the next 10 games following a minor stroke.
Thompson already had filled in the three previous games after Wedge was hospitalized prior to Monday's contest with the Indians after becoming dizzy during batting practice.
Thompson expects an easy transition, given he's worked as Wedge's bench coach all three years in Seattle and the two share similar ideas on how to run a team and game situations.
"I think we're very similar," said Thompson, a two-time All-Star with the Giants during his playing career. "It's not a micro-managing thing. We don't try to make things happen or try to get our hands too deep into things. Pretty much the same philosophy on letting the game dictate what we need to do, other than what we need to do to make something happen out there."
Thompson talked with Wedge on Thursday morning and said he sounded good, but at least on this day they didn't discuss the lineup or upcoming baseball decisions.
"He basically said, hey, he trusts in me and knows what I'm all about," Thompson said. "Myself and the rest of the staff will daily piece together our lineup. As of late, it's been pretty easy. The lineup has been fairly steady each and every day, with maybe a change here or there. Hopefully that continues. I will definitely be in touch and talk with Eric, pretty close to every day, whether it be on the lineup issue or baseball or just talking and seeing how he's doing. And I'm sure he'll want to know how we're doing and how the players are doing."
The players are more concerned with how their manager is feeling at this point.
"He's our leader and everybody is all in for him," said rookie shortstop Brad Miller. "I think we owe it to him to go out and keep playing hard. That's all he ever asks of us, to play hard. So we have to take care of business out here for him, let him rest up and we can't wait until he gets back. That's the biggest thing."
Twins skipper Ron Gardenhire, who faced Wedge for years in AL Central battles when Wedge was with the Indians, said he was thinking of his longtime friend and foe, knowing the baseball grind "can wear you out" if managers aren't careful.
"I kind of know firsthand, I've been sick a couple times myself," Gardenhire said. "It's a stressful job and you do a lot of thinking about it and a lot of worrying about it. You try to do the right things. There are a lot more stressful jobs than ours, but definitely, pay attention to your health. It's a band of brothers here, so you're always thinking about each other when this stuff happens. I'm very concerned about him and glad he's doing OK."
Greg Johns is a reporter for MLB.com. Follow him on Twitter @GregJohnsMLB as well as his Mariners Musings blog. This story was not subject to the approval of Major League Baseball or its clubs.