Franklin, Miller go back a long way
Franklin, Miller go back a long way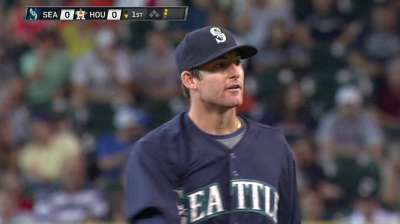 SEATTLE -- If young Mariners shortstop Brad Miller and second baseman Nick Franklin seem to have a natural comfort level together, there's a reason. The rookies have known each other since their high school days in Orlando, Fla., where they grew up about 20 minutes apart.
Miller, 23, was a year ahead of Franklin, 22, in school, but the two played together on a traveling all-star team when Miller was a sophomore in high school, and then for another four or five games together on the Diamond Club area all-star team in Miller's senior year.
"We have a lot of mutual friends and things, so just having those connections and talking about back home is pretty cool," Miller said. "For sure, I think it has to have helped. It's been easy for us, because we're both learning and helping each other out with all the ins and outs. It's been good."
Despite their inexperience, the duo has benefited from communicating well and leaning on each other in their first weeks in the big leagues.
"It's absolutely better than anything," Franklin said. "If you've played or known or played against somebody, it's kind of cool. If you've got a guy you've never played with before, which is usually the case, you have to get used to them. It's to our advantage to have that and know what we can do. We trust each other and don't have to worry about getting a perfect feed or whatever. We have that trust."
Acting manager Robby Thompson said the two have benefited from the help of veteran shortstop Brendan Ryan.
"Brendan has actually helped them pregame," Thompson said. "Brendan is one of those guys who likes to pass on his knowledge, whether it be fielding or thinking through the game. He's done a really good job with the young guys. Would he like to be playing? Of course he would. But he's not sulking. He's helping out the best he can, and he's ready to play at any point in time.
"But the two of those guys [Miller and Franklin] communicate very well and they're playing at a higher level right now. They've been impressive what they've done so far, not only offensively, but defensively as well."
The pair combined on two of Seattle's three double plays in Wednesday's 10-1 loss to the Indians.
Greg Johns is a reporter for MLB.com. Follow him on Twitter @GregJohnsMLB as well as his Mariners Musings blog. This story was not subject to the approval of Major League Baseball or its clubs.