Mariners GM: Wedge doing well at hospital
Mariners GM: Wedge doing well at hospital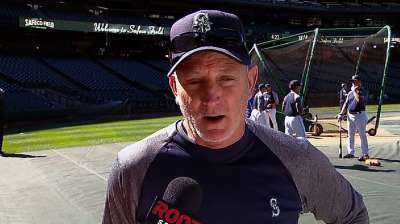 SEATTLE -- Mariners manager Eric Wedge spent a second night in the hospital on Tuesday, while bench coach Robby Thompson took over as skipper for that evening's game against the Indians.
Wedge was taken to a hospital before Monday night's game because of a dizzy spell he experienced during batting practice. Players helped the manager from the dugout before team doctors checked him out.
"He's doing well, I had an opportunity to spend some time with him this morning," Mariners general manager Jack Zduriencik said. "I visited him and his wife, Kate, and he's doing well. He's in good spirits. But it's a little premature to say yet what the prognosis is going to be. More than anything else, as a precaution, they just want to keep him another evening as they get the results from the tests, which are ongoing."
Zduriencik said he didn't know the severity of Wedge's condition, but that they had a conversation about Monday night's 2-1 victory over Cleveland and that the manager appeared fine.
The Mariners entered Tuesday night's game riding a seven-game win streak, but are having to adjust to playing without their manager in the dugout.
"We're all concerned and thinking of him and hoping whatever it is passes and he can get back here as soon as he can," closer Tom Wilhelmsen said. "But it doesn't change how we play and continue playing."
Greg Johns is a reporter for MLB.com. Follow him on Twitter @GregJohnsMLB as well as his Mariners Musings blog. Jacob Thorpe is an associate reporter for MLB.com. This story was not subject to the approval of Major League Baseball or its clubs.