'Dizzy' Wedge taken to hospital for precaution
'Dizzy' Wedge taken to hospital for precaution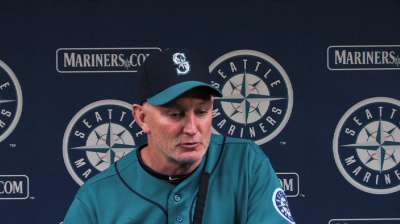 SEATTLE -- Mariners manager Eric Wedge was taken to a local hospital before Monday night's game as a precautionary measure after what was described as a "dizzy spell" during batting practice. Bench coach Robby Thompson filled in for Wedge at Monday's opening win against the Indians, and Wedge is expected to return to the team on Tuesday.
"He should be fine I'm sure the 'W' is going to help him out a little bit. When [Charlie] Furbush hit the first guy, hit [Michael] Bourne, I think maybe it rustled him around a little bit in his bed," joked Thompson.
Wedge spent the night in the hospital, and the Mariners are awaiting the results of further tests.
"He's fine, he's been evaluated by our doctors, everything looks good, really good," general manager Jack Zduriencik said. "What we're doing is, we'll be very cautious about this. He's going to get checked tonight, we're going to run him up to the hospital just to make sure we cover all of our bases."
Many of the players were unaware that anything was wrong with Wedge until just before the game. Others, who were in the dugout when the manager began to feel dizzy, came to his aid.
"I didn't know about it until right after batting practice," said Aaron Harang, who started on Monday night. "Jack came in and told us he was going to get checked out, and some of the guys that were out there in the field saw that he wasn't feeling well. It kind of threw me back for a minute when I heard the news, so we're just glad he's feeling alright."
Jacob Thorpe is an associate reporter for MLB.com. This story was not subject to the approval of Major League Baseball or its clubs.