Mariners set rotation following All-Star break
Mariners set rotation following All-Star break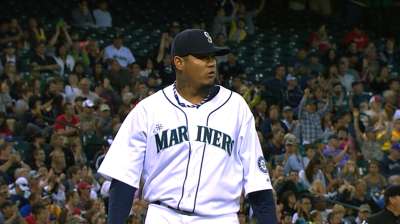 SEATTLE -- The Mariners rotation following the All-Star break has been set, with Joe Saunders leading off the season's second half against Houston on Friday. All-Stars Hisashi Iwakuma and Felix Hernandez will follow Saunders to finish off the series against Houston.
"We've got two great pitchers that are going to the All-Star Game, and it's my turn in the rotation to give those guys a couple extra days off and let them get settled back in," Saunders said.
The left-hander will be tasked with continuing the momentum for a team that has been on fire of late, supplementing good pitching with an offense that was averaging 6.0 runs per game in July entering Sunday's contest.
Saunders has been on a good run of his own, going 3-0 with a 0.87 ERA over his last three starts, while throwing 20 2/3 innings in that span.
"To keep the momentum going would be great," Saunders said. "Obviously we've got some ground to make up here in the second half so hopefully we can get off to a good start come Friday."
Jacob Thorpe is an associate reporter for MLB.com. This story was not subject to the approval of Major League Baseball or its clubs.