Pryor closing in on return to bullpen
Pryor closing in on return to bullpen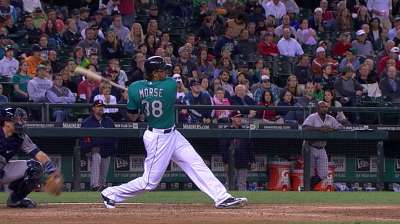 SEATTLE -- The Mariners' bullpen could get a boost shortly after the All-Star break, as reliever Stephen Pryor took another step closer to rejoining the club. Pryor threw a simulated game before Saturday's game against the Angels without experiencing any setbacks, meaning he could be ready for a rehab assignment soon.
"Pryor threw again today, looked good," manager Eric Wedge said. "He had [Dustin] Ackley and [Franklin] Gutierrez hitting against him. It's his second sim game, and he feels good so we'll see how he feels tomorrow but we're hoping to get him out to [Class A] Everett over the All-Star break."
Pryor has only pitched 7 1/3 innings for Seattle this year, giving up one run on three hits. The righty has a big arm and can touch 99 mph with his fastball. The 23-year old Pryor had a 10.6 K/9 ratio last season.
Gutierrez may be close to trying another comeback with the Mariners. The oft-injured center fielder was placed on the 15-day disabled list on June 24, just two days after being activated. In only 18 games this season, Gutierrez has driven in 11 runs while knocking five home runs, in addition to playing his usual stellar defense.
Wedge said that he would speak with Gutierrez on Sunday and "make some decisions on him." If he is able to play, he will be sent to the Minors for a rehab assignment.
Less encouraging for the Mariners, however, is the status of outfielder/first baseman Michael Morse. The slugger was placed on the 15-day DL, retroactive to June 21, after battling a strained right quad for much of June. Wedge said that Morse is still unable to hit without pain.
"He just still feels it. I mean, he's getting better, but when he did the last sim game, he felt it," Wedge said.
Morse was hitting .251 with 11 home runs before being place on the DL.
Jacob Thorpe is an associate reporter for MLB.com. This story was not subject to the approval of Major League Baseball or its clubs.