LaFromboise, Noesi recalled from Triple-A Tacoma
LaFromboise, Noesi recalled from Triple-A Tacoma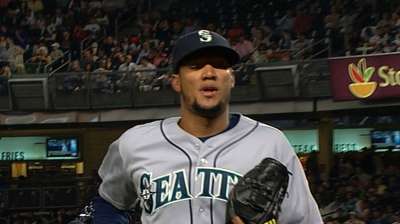 SEATTLE -- Looking to bolster their bullpen after a rough series against the Red Sox, the Mariners recalled relievers Bobby LaFromboise and Hector Noesi from Triple-A Tacoma on Friday.
Erasmo Ramirez, who made his first start for Seattle in Thursday's 8-7 loss, was optioned to Class A Everett and long reliever Blake Beavan was optioned to Tacoma.
With the All-Star break coming next week, Ramirez would have sat for 12 days before making his next scheduled start if he'd stayed as the fifth man in the rotation. This move allows Ramirez to pitch on his normal rest next week, then be recalled in time to make his next start for the Mariners.
"Just keep him going and make sure he'd stay in his routine for the most part," manager Eric Wedge said. "We'll get him back here after the break."
Beavan will be moved back into the starting rotation for Tacoma, which could give the Mariners another option down the road.
Players who are optioned to the Minors must stay down for a minimum of 10 days unless a player goes on the disabled list on the 25-man Major League roster to create an opening.
"We wanted to get him back there and have him start," Wedge said. "Noesi's shown himself to be a bit more durable in the 'pen. We need help today with all the workload of everybody in the last couple days."
LaFromboise and Noesi will be available out of the bullpen for Friday night's series opener against the Angels at Safeco Field. Seattle's relievers pitched 15 1/13 innings over the previous three games against Boston.
LaFromboise, 26, appeared in three games with Seattle earlier this season and allowed two runs in 2 1/3 innings. He was 4-0 with a 3.86 ERA in 29 games with Tacoma.
"It feels a little different," LaFromboise said. "Obviously, being here before I'm not as nervous. I'm still nervous, I wasn't here very long, so I still have to tiptoe around and test the waters a little bit. But I'm glad to be back and hopefully stick around for a little while."
Noesi, 26, will be in his third stint with the Mariners this season. He's gone 0-1 with a 4.74 ERA in 19 innings in seven games and can be used as a long reliever. The right-hander was nonplussed about his return to the big leagues.
"It's exciting, but at the same time, I'm used to it," Noesi said. "Down, up, down, up, a few too many times. It's kind of the same for me."
Beavan, 24, was 0-2 with a 6.13 ERA in 12 games with Seattle. This will be his second time joining Tacoma this season.
Ramirez, 23, gave up six hits and seven runs in 4 1/3 innings in his first Major League start of the season Thursday after missing the first three months of the year with an elbow injury.
Greg Johns is a reporter for MLB.com. Follow him on Twitter @GregJohnsMLB as well as his Mariners Musings blog. Jacob Thorpe is an associate reporter for MLB.com. This story was not subject to the approval of Major League Baseball or its clubs.