Wedge continues to ride Ibanez's hot bat
Wedge continues to ride Ibanez's hot bat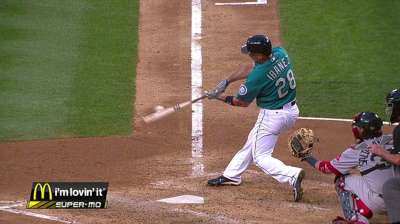 SEATTLE -- Mariners manager Eric Wedge continues riding the hot bat of Raul Ibanez, who has started 37 of the last 38 games while producing one of the best seasons for a player his age.
Ibanez, 41, signed with the Mariners as a projected platoon candidate in left field, but he instead has emerged as an everyday player while hitting 22 home runs and 51 RBIs going into Thursday's series finale with the Red Sox.
"We are playing him a lot," Wedge said. "I've talked to him. I gave him a day off in Cincinnati and I've talked to him quite a bit. Not that he's ever going to tell me he's not able to go. But I just watch the way he plays, the way he runs, the way he moves. His level of awareness and being alert, the quick twitch, it's all there. I just don't see him slowing down, so how do you not play him?"
Wedge showed faith in Ibanez in April when the veteran got off to a slow start, hitting .158 with two home runs and five RBIs the first month. That patience paid off, even when many were assuming Ibanez was done.
"First of all, you trust him to no end. He's had stretches before, but always come out of it," Wedge said. "The bat speed was there, the approach, the mindset. You see him start to figure it out in BP and you know it's going to happen, so you just have to keep playing him.
"People said don't play him against left-handers," said Wedge. "Well, I feel like this guy can get big hits against left-handers and guess what? He has. He still has presence against left-handers, which helps the other guys. You have to stick with guys. If you react off everybody else, you're going to have guys in and out of here daily. You have to have a little faith every now and again. But you have to have reasons and indicators to have that and I had plenty of those."
Greg Johns is a reporter for MLB.com. Follow him on Twitter @GregJohnsMLB as well as his Mariners Musings blog. This story was not subject to the approval of Major League Baseball or its clubs.