Zduriencik not aggressively pursuing trades
Zduriencik not aggressively pursuing trades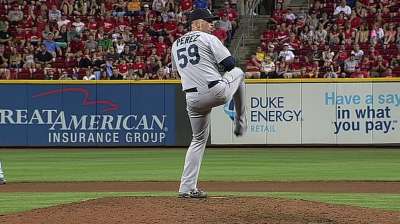 SEATTLE -- Three weeks prior to the July 31 non-waiver Trade Deadline, general manager Jack Zduriencik says he's not actively pursuing deals yet despite his team being 10 games under .500 and 10 1/2 games back in the American League Wild Card race.
The Mariners potentially have several interesting trade chips, with left-handed reliever Oliver Perez, outfielders Raul Ibanez, Michael Morse, Jason Bay and Franklin Gutierrez, designated hitter/first baseman Kendrys Morales and shortstop Brendan Ryan -- all veteran players who'll be free agents at the end of this season.
Seattle has gotten younger as the season has progressed, with three rookies -- second baseman Nick Franklin, shortstop Brad Miller and catcher Mike Zunino -- all taking over starting roles in the past month. But Zduriencik doesn't sound ready to disband a club that he doesn't think ever hit full stride after injuries to Gutierrez and Morse and disappointing starts from several others has the team at 40-50 even after a recent uptick with the youthful additions.
"In all fairness, I don't think I'm going to be an aggressor," Zduriencik said. "I'm not going to go out there and start shopping our players. I don't think that's the right thing to do. We have three weeks before the trading deadline. Our goal is to put a healthy club on the field.
"You have to entertain calls when people call -- and they are calling. You have to listen to what they have to say and you ultimately have to do what's best for the organization. But we've been through a lot in the early part of this year, between struggles and injuries and setbacks. We've liked what's happened this last week, but who knows?
"I don't have a crystal ball and I can't predict one way or the other what is going to happen. But I'll do my job, as I'm supposed to do. And if something makes sense, then you're certainly going to listen."
Ibanez and Morales are having strong seasons offensively and have provided needed middle-of-the-order production. Perez has been outstanding after reinventing himself as a left-handed relief specialist the past two years, while Bay has provided some help as well as another former Mets castoff in the outfield.
Morse got off to a hot start, but he has dealt with a broken finger and now a strained quadriceps that has him on the 15-day disabled list, though he's expected back shortly. Gutierrez is also on the disabled list with a hamstring issue being the latest in his long list of health problems, while Ryan lost his starting shortstop role to Miller after struggling at the plate for a second straight year.
Last year, Zduriencik was fairly active in the July trade market, dealing right fielder Ichiro Suzuki to the Yankees on July 23 and reliever Brandon League to the Dodgers and reliever Steve Delabar to the Blue Jays on July 30 in deals that brought four Minor League prospects and outfielder Eric Thames in return.
Greg Johns is a reporter for MLB.com. Follow him on Twitter @GregJohnsMLB as well as his Mariners Musings blog. This story was not subject to the approval of Major League Baseball or its clubs.