At 41, Ibanez showing no signs of slowing down
At 41, Ibanez showing no signs of slowing down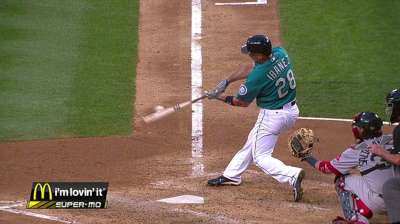 SEATTLE -- For a guy who signed with the Mariners as a projected platoon role player and veteran clubhouse leader, Raul Ibanez has turned into a remarkably productive everyday outfielder the past two months.
At 41, Ibanez is going where no Major Leaguer has gone before in terms of power production. The 18-year veteran is the first MLB player to hit 20 or more home runs before the All-Star break at age 40 or older. He hit his 22nd home run in Monday's 11-4 victory over the Red Sox and is just seven shy of Ted Williams' record of 29 home runs in a full season, the most home runs ever hit by a 41-or-older player.
Regardless of age, Ibanez is producing more than expected. He's third on the Mariners in at-bats with 254 going into Tuesday's game, behind only Kyle Seager and Kendrys Morales. Ibanez leads the team in home runs and RBIs (51) as well as slugging percentage (.563).
Ibanez hit 19 home runs last year with the Yankees, but none of those came against left-handers and he was expected to be a platoon option for Seattle as well. But he's wound up hitting eight of his 22 this year against southpaws.
According to Ibanez, it's simply a matter of playing every game as if it could be his last and making the most of every opportunity.
"I was definitely not expecting to play that much," he said. "I'm trying to enjoy it. At some point late last season, like in September, I started acting like it was my last game. I started asking myself the question, 'If it was my last game, how would I act and what would I think about and how would I prepare?' And try to enjoy it as much as you can, because at 41 years old, you can't play this game forever.
"I try to use that approach to play the game and try to hopefully share that approach with the younger guys and say, 'Hey, time goes by really fast and just enjoy this.' I'm always preparing and running around and doing things. I think now is finally where I'm kind of enjoying it and taking it in and understanding that at 41, you can't play forever and try to enjoy it as much as you can every day."
Greg Johns is a reporter for MLB.com. Follow him on Twitter @GregJohnsMLB as well as his Mariners Musings blog. This story was not subject to the approval of Major League Baseball or its clubs.