Morse improving; Franklin returns to lineup
Morse improving; Franklin returns to lineup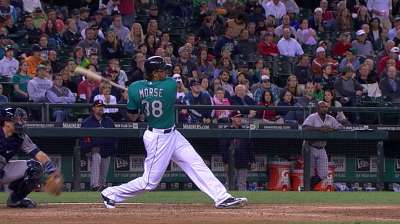 CINCINNATI -- When the weather has allowed it the past couple of days, Mariners outfielder Michael Morse and second baseman Nick Franklin have been running around Great American Ball Park.
On Saturday, Morse tested the right quad strain that's been bothering him since late May and pushed him to the 15-day disabled list on June 21. As a result, manager Eric Wedge said the Mariners have a little bit better idea of the plan for Morse and his return.
"He's OK," Wedge said of Morse. "He's still feeling some soreness, so I think what we're going to do is probably give him the next couple days and hopefully get him out [on a rehab assignment] midweek."
Wedge said Morse will join Triple-A Tacoma, which is on the road in Tucson until Wednesday before hosting Reno from Thursday-Sunday.
Meanwhile, after making a pinch-hit appearance on Saturday, Franklin was back in the starting lineup for Sunday's series finale against the Reds. The 22-year-old rookie infielder bunted a ball off his right knee in Friday's win and immediately experienced swelling that kept him from making the start on Saturday.
"[Franklin] came out and ran around a little bit," Wedge said before Sunday's game. "He walked in better, got treatment, felt better, ran around, got some more treatment and still felt a little bit better, so he's good enough to play."
Jeremy Warnemuende is an associate reporter for MLB.com. This story was not subject to the approval of Major League Baseball or its clubs.