Franklin doesn't start after playing through pain Friday
Franklin doesn't start after playing through pain Friday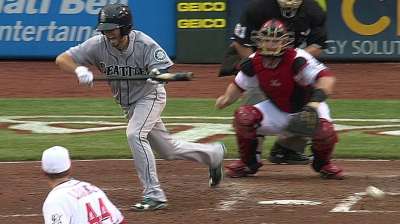 CINCINNATI -- After Nick Franklin bunted a ball off his right knee in the third inning of Friday's 4-2 win over the Reds, manager Eric Wedge opted to keep his young infielder in the game, even though he was hobbled on the play.
Wedge treated it as a learning experience for Franklin, who has become the Mariners' starting second baseman since making his Major League debut on May 27.
"If he's going to be an everyday guy, you've got to play through things like that," Wedge said. "It's just part of it. When you play every day, and you get nicked and a little banged up from time to time, you've got to play through it."
Franklin had no objection to staying in the game, but when he limped into the visiting clubhouse at Great American Ball Park on Saturday, his name was not in the lineup. However, Franklin pinch-hit in the sixth inning and struck out.
Brad Miller -- leading off for the second straight day -- moved over to second base to replace Franklin with Brendan Ryan getting the start at shortstop.
Meanwhile, Franklin was uncertain of the exact terminology for the injury that kept him out of action on Saturday, but he said the main issue was the immediate swelling he experienced just above his kneecap.
"It's stiff," Franklin said. "It's pretty hard to bend, but I think if it bothered me just a little bit, I'd be out there playing."
Franklin entered Saturday batting .290 with five home runs and 17 RBIs in 35 games. He homered in his first at-bat on Friday, and he was frustrated that he couldn't get back on the field to keep it going.
"It's the first time it's ever actually happened to me, on a bunt, especially," Franklin said. "It's like out of all things, it's a bunt off the knee. You don't really expect it to do anything."
Jeremy Warnemuende is an associate reporter for MLB.com. This story was not subject to the approval of Major League Baseball or its clubs.