Miller excels in debut at leadoff spot
Miller excels in debut at leadoff spot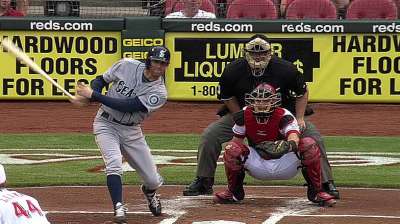 CINCINNATI -- Batting leadoff for the first time in just the seventh game of his Major League career, Brad Miller started Friday's game against the Reds by legging out a triple off starting pitcher Mike Leake. Four innings later, Miller tripled again, giving him the first two three-baggers of his career.
Many players would have been satisfied with doubles on each hit, but Mariners manager Eric Wedge left little to chance when he slotted Miller at the top of the order.
"That's the way he plays the game, whether it be at home plate, in the field or on the basepaths," Wedge said. "I love the way he comes out of the box. He's thinking not doubles; he's thinking triples out of the box."
For Miller, that was all part of the fun of playing baseball.
"I like that style," he said. "Hopefully stretching some singles into doubles and doubles into triples. I've just always been coached that way, and I like that, kind of going all out until they stop you."
After going a combined 0-for-8 in his first two games, Miller ended Friday batting 6-for-14 (.429) with a walk and two doubles to go with two triples in his last five appearances. He has also stolen two bases since being called up June 28, and he said that has been something he has to focus on during his brief big league tenure.
"All the games I've been in since I've been here have been close ballgames," said Miller, who has already played three extra-inning games. "So the ability to take an extra base or score on a hit is huge. You got to cash in runs any time you can. It's been fun. Obviously hitting and defense are some focal points, but baserunning is just as important."
Miller also said the transition from Triple-A to facing big league pitching had been a learning experience with a big jump in difficulty. But by being inserted into the leadoff spot Friday, he said he had a little bit of extra confidence going forward.
"Just to be in there and be at the top and hopefully set the table," Miller said. "It's exciting to get out there."
Jeremy Warnemuende is an associate reporter for MLB.com. This story was not subject to the approval of Major League Baseball or its clubs.