Veteran bats come through with runners on base
Veteran bats come through with runners on base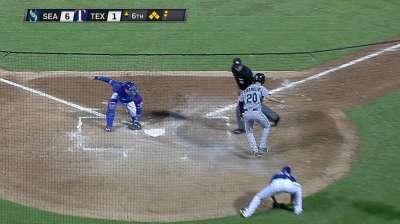 ARLINGTON -- For the Mariners, it's not just about how veterans Kendrys Morales and Raul Ibanez are hitting this season. It's when they're hitting.
On a team struggling to score runs, Morales and Ibanez have been the most consistent hitters with runners in scoring position. Morales is batting .282 overall this season entering Thursday's series finale against the Rangers, but that number jumps to .375 (27-for-72) with runners in scoring position.
Ibanez is hitting .246 overall, but .327 (18-for-55) with runners in scoring position. Thus, it's not surprising the two are leading the team in RBIs, with Morales at 48 and Ibanez 46 as the season moves past the halfway point.
"It's mainly a lot of concentration and what it takes to do to be a winner and help the team out," Morales said through interpreter Jaime Navarro. "Every time I have an at-bat, I need to be ready for the situation to help this team."
Rookie second baseman Nick Franklin has also done well with runners in scoring position in his month with the club, hitting .381 (8-for-21). And catcher Mike Zunino is at .294 (5-for-17) in his short time with the team. But the rest of the Mariners have struggled mightily.
Seattle ranks 26th among baseball's 30 teams in batting average at .238, and 29th in RISP average at .228, ahead of only the Astros' .223. Take Morales and Ibanez out of the equation, and Seattle's hitters are batting .195 with runners in scoring position.
"Raul is a clutch player, he wants to be up in those situations, and when you look at what he and Morales do with runners in scoring position, that's really been our Achilles, and everybody else can draw from that and watch and learn from it," said manager Eric Wedge. "If we thrive more in those situations, we'd be a completely different ballclub."
Greg Johns is a reporter for MLB.com. Follow him on Twitter @GregJohnsMLB as well as his Mariners Musings blog. This story was not subject to the approval of Major League Baseball or its clubs.