Wedge plans to maintain closer by committee
Wedge plans to maintain closer by committee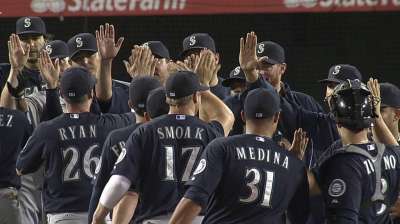 SEATTLE -- Mariners skipper Eric Wedge said the Mariners will continue with a committee approach while the closer situation sorts itself out. Seattle has asked different relievers to save games while former closer Tom Wilhelmsen works through his recent struggles.
The normally dependable Wilhelmsen has allowed a baserunner in his past eight appearances and has a 12.00 ERA in 10 games since May 29. Wilhelmsen was seventh in the American League with 29 saves a year ago, despite not taking over the closer role until June.
"There can't be any clarity right now, because there's no clear-cut closer and we've got a couple guys struggling, trying to find it," Wedge said. "So you mix and match as best you can. That's what happens when you lose your closer, you pull everybody else out of their roles."
Amid Wilhelmsen's struggles, the Mariners have tried Yoervis Medina and Oliver Perez in the ninth. Wedge says that practice will continue as the Mariners start an eight-game homestand.
"It's just part of it," Wedge said. "They've got to handle it, they've got to come together. Opportunities are going to be given like they have been, and it's an opportunity to step up."
Jacob Thorpe is an associate reporter for MLB.com. This story was not subject to the approval of Major League Baseball or its clubs.