Smoak inching toward return to Mariners
Smoak inching toward return to Mariners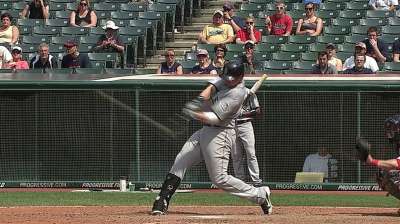 OAKLAND -- Before Saturday's game, Mariners manager Eric Wedge alluded to the possibility of Justin Smoak returning to the team from a Triple-A rehab stint for the second half of Seattle's road trip against the Angels starting Monday.
"I don't want to lock myself into anything just yet," Wedge said, adding that he'd discuss further with Rainiers interim manager John Stearns before making a decision.
Smoak, who is recovering from a right oblique strain, and Franklin Gutierrez, who is coming back from a strained right hamstring, went a combined 2-for-7 and scored three of Tacoma's six runs in the Rainiers' win over Sacramento on Thursday as the two look to finish their time in the Minors and join the big league club.
"It's a combination of how they feel and how they're doing," Wedge said. "So they're doing all right and they're feeling OK. We'll reevaluate everything after tomorrow."
Dustin Ackley could also see a return in the near future if his success with the Rainiers continues. Ackley was demoted to Triple-A after hitting just .205 in the first two months of the season but has thrived with a .412 batting average in Tacoma, including a 2-for-4 performance on Thursday.
"It has to be able to translate up here," Wedge said. "I think his mindset is the biggest thing."
Ackley's time in the Minors has also served as an opportunity for the Mariners to see him switch to the outfield after playing at second base earlier in the season. He'll most likely play in the outfield if he's to return to the Major Leagues with rookie Nick Franklin having success at second base.
"He's been playing some center field, some left field," Wedge said. "We know he can play second base basically perfectly, too. That versatility only helps us and helps him."
Jeff Kirshman is an associate reporter for MLB.com. This story was not subject to the approval of Major League Baseball or its clubs.